WWE fans around the world were pleasantly left shocked after what seemed like the legendary Undertaker had made his appearance during a wedding ceremony in Pakistan. The 52-year-old Texas-born pro wrestler was last seen inside the WWE ring at the RAW 25 Anniversary special show in Manhattan on January 22 this year.
The 'Deadman' was expected to make a stunning return to action at Royal Rumble 2018 but that didn't quite turn out. He is however still expected to make an appearance at WrestleMania 34 on April 8.
Now, amid all these, a viral video on the internet left fans completely stunned for a moment or two. During a wedding in Pakistan, the iconic background music theme of the Undertaker hit all of a sudden and even the lights were dimmed.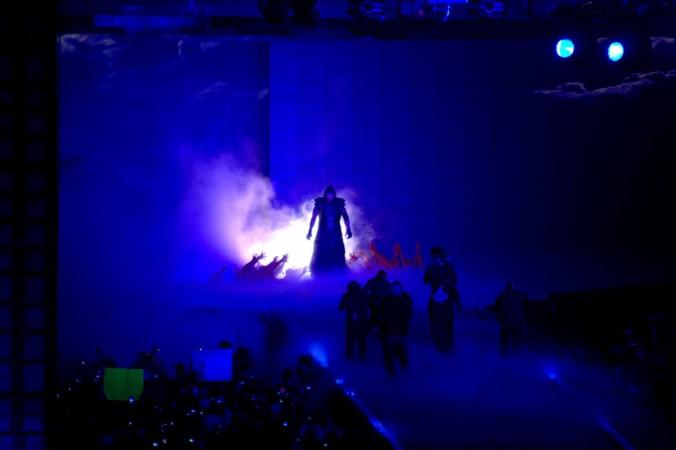 Surprisingly, even the artificial smokes came out as the set soaked in the eerie blue colour. The perfect and the most realistic setting for the Undertaker to make an entry, as he has done over the last few decades.
It almost seemed there was a silhouette of the Undertaker from far...but then, the person started walking. The iconic black overcoat and the hat on, and also a WWE title (currently, the Undertaker doesn't hold any WWE belt).
The person walked forward and we realised he was wearing a kurta pyjama. And then we found out that it was actually the groom!
Grooms arriving in their marriage ceremonies at the back of a horse or even a camel is common in India and Pakistan. But the groom emulating the Undertaker is something we could not have fathomed!
We don't exactly know what the bride actually went through!
The Undertaker, needless to say who has millions of fans across the world, was also depicted in the 1990s Indian Bollywood movie Khiladiyon Ka Khiladi, starring Akshay Kumar and Rekha.
The movie showcased the fight between the 'Deadman' and Akshay, who in real life is a trained combat artist.
Not the real Mark Wiliam Calaway, but Brian Lee Harris -- a former pro wrestler better known as the imposter of Undertaker -- played the role of the 'Phenom' in the movie.