The pro wrestling world will never ever see someone like the Undertaker again. Therefore, there are major talks going on inside the WWE at the moment to get the Deadman out of his home and urge him to compete inside the ring...again!
The 52-year-old, whose real name is Mark William Calaway, possibly retired at the WrestleMania last year after losing to Roman Reigns. The Undertaker kept his iconic black hat in the middle of the ring after the match and symbolically bid goodbye to everyone.
READ: How to watch the RAW 25 anniversary episode
Truth be told, the Undertaker has remained and still remains the biggest attraction in the WrestleMania. With the WrestleMania 34 just months away, WWE are furiously negotiating with the Deadman for yet another appearance.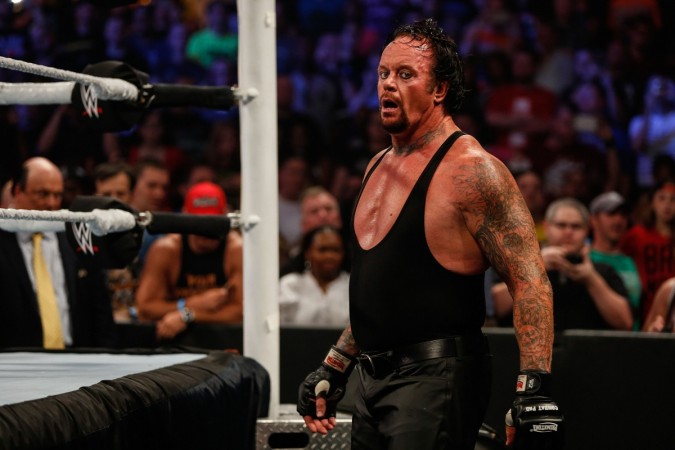 Mr. WrestleMania, Shawn Michaels, meanwhile, who has been involved in some of the biggest matches with the Undertaker in WWF/WWE, has commented on the possibility of the Deadman making yet another WrestleMania appearance.
"His [Undertaker's legacy] is intact no matter what he does. It is more important for me that they have peace and contentment with this line of work and whatever they need to get it, I am behind," Michaels said in an interview with the Times of India on the sidelines of Raw's 25 anniversary.
"Walking away from a job when it is a big part of who you are, is a big big decision; something not to be taken lightly. And I think people often don't understand that. But it is, especially for those who are doing it or have done it for so long and done pretty darn decent, it is a big thing to walk away, and I want to see him do that when he feels he is ready.
"That's a decision for him individually. I recognise that this has a ripple effect on fans across the world, but it ultimately comes down to one guy and what matters to him. Since I know the guy, whenever he is ready, am going to support him.
The Undertaker is rumoured to appear alongside Michaels as well as a host of other WWF/WWE legends on Raw 25 this Monday January 22.
"Most likely his choice [if Undertaker wants to fight at WrestleMania 34]. If there is an opponent out there; and my guess is, that would not be tough to find, any one would like a crack at the Undertaker," continued Michaels.
"One thing is for sure everyone else will be watching, but it is his decision. If indeed Taker could wrestle in 25 years of RAW, that will be huge and there will be a lot of big things happening.
"Exciting things will be going on. I tell you this because, I have found out absolutely nothing, my guess is they might keep all of us in the dark for quite some time before the show starts."