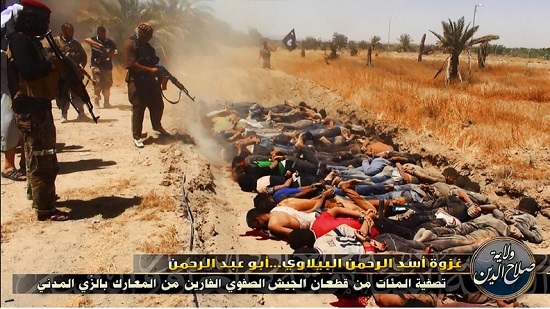 The United Nations has confirmed that Islamic State militants carried out mass killings of thousands of Shiite prisoners back in June.
UN human rights chief Navi Pillay, condemning the war crimes by Islamic State, noted that the group committed "appalling, widespread" crimes in Iraq, including mass executions of soldiers and prisoners.
At least 670 inmates from the Badush prison in Mosul were killed by Islamic State on 10 June, Pillay said in a statement, quoting survivors and witnesses to the "massacre" telling UN human rights investigators.
"Such cold-blooded, systematic and intentional killings of civilians, after singling them out for their religious affiliation, may amount to war crimes and crimes against humanity," Reuters quoted Pillay.
Islamic State loaded 1,000 to 1,500 prisoners from the jail on to the trucks and took them for screening; Sunni inmates were then separated and removed, she said.
"ISIL gunmen then yelled insults at the remaining prisoners, lined them up in four rows, ordered them to kneel and opened fire."
Through a series of graphic pictures and posts on Twitter, the Islamic State then boasted that they slaughtered thousands of Iraqi soldiers back in June.
The massacre was not proved then but is now touted as the single largest act of mass killing reported in a war in recent times, reports Time.
Meanwhile, a recent United Nations report also found that thousands of civilians have been killed in Iraq alone in July, in Islamic State's terror attacks in the country. The report noted that in total at least 1,737 people, mostly civilians, were killed in July.
The death toll also includes 551 members of the Iraqi security forces.
The July figures bring the death toll of the year to at least 6,700.