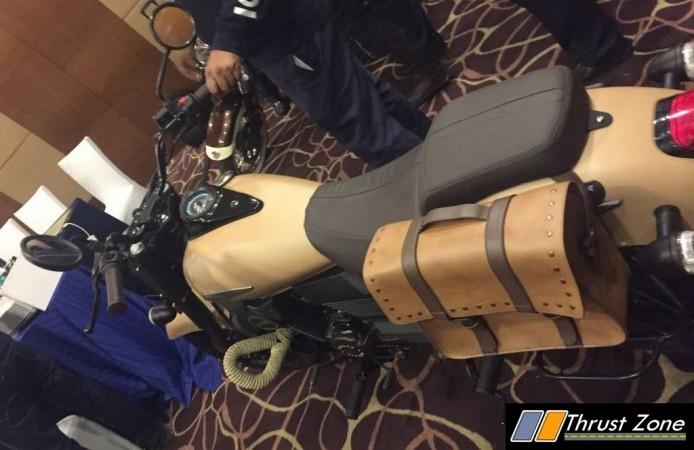 UM Motorcycles India is gearing up for the launch of a special edition of the Renegade Commando motorcycle. Dubbed as Mojave, the special edition is expected to enter market in April-May.
Also read: UM Renegade Commando, Sport S bike prices increased by up to Rs 8,000
The leaked images posted by Thrustzone sheds some light on the special edition. The name comes from the arid rain shadow desert and the driest desert in North America. The motorcycle is draped in sand dunes' shade including the leather saddlebag. It gets olive green on body panels and black on suspension and headlight assembly. Also, the front leg guard is wired with jute ropes and that lends a tough off-road look to the motorcycle.
Mojave is Renegade Commando and it means the motorcycle is powered by the same 80cc single-cylinder water-cooled engine that develops 25bhp of power at 8,500rpm and 21.8Nm of torque at 7,000rpm, mated to six-speed transmission. The motorcycle measures 2,257 mm in length, 1,140 mm in height, 780 mm in width and has wheelbase of 1,545 mm. Renegade Commando is currently offered in three colours (black shine, green matt and grey matt).
Renegade Commando is currently retailed at Rs 1.64 lakh (ex-showroom, Delhi). Hence, the Mojave edition will be pricier than Commando.
The US motorcycle manufacturer headquartered in Miami is also planning to launch the third model for India, Renegade Classic, sometime in May. During the brand's introduction at Auto Expo 2016, UM Motorcycles had priced Renegade Classic at Rs 1.69 lakh (ex-showroom, New Delhi). There are chances that the motorcycle may see a slight hike in pricing when it comes officially this year.
UM Motorcycles India has also completed a year of India operations in association with Lohia Auto. The production of the cruiser bike takes place at Lohia Auto's Kashipur facility in Uttarakhand.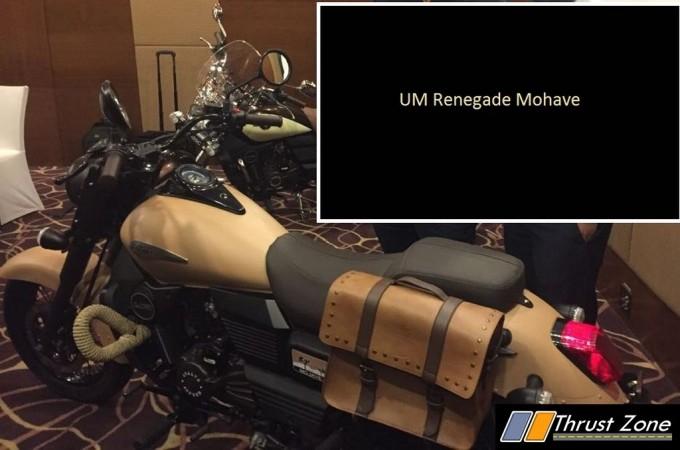 Source: ThrustZone