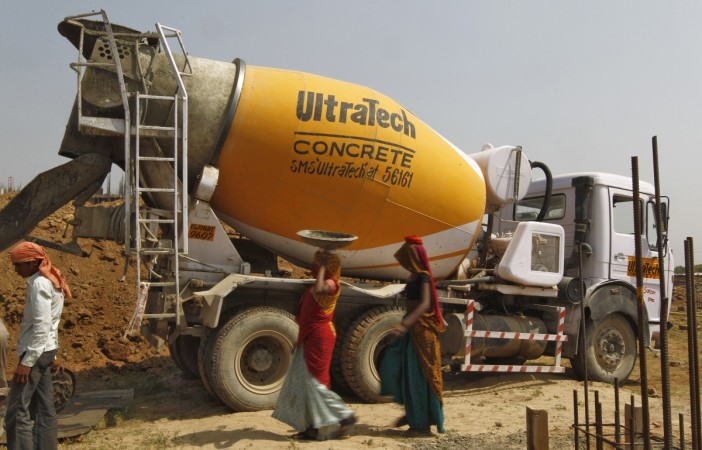 UltraTech Cement reported a 29 percent rise in its net profit for the first quarter ended June 2016. The Aditya Birla Group company's net sales grew 4 percent to Rs. Rs. 6,538 crore as against Rs. 6,281 crore during the year-ago period, according to its regulatory filing with the Bombay Stock Exchange (BSE).
The company's net profit for the June 2015 quarter stood at Rs. 604 crore.
Shares of India's biggest cement company by capacity were trading at Rs. 3,539 apiece at around 9.35 a.m. on Wednesday, up 0.97 percent from their previous close on the BSE.
UltraTech Cement has an annual cement capacity of 63 million tonnes. It is the largest maker of white cement and ready mix concrete in the country.
The company was confident of the industry's prospects in the current fiscal, given the government's infra push.
"During the year cement demand is expected to grow around seven percent, given the government's focus on infrastructure development, housing sector, smart cities, roads," the company said.
However, brokerage Angel Broking did not share the bullish tone of the company.
"The volume growth after picking up in Q4FY16 has gained seems to be cooling off while realisations are still not in an uptrend," Siddharth Purohit, Equity Research Analyst- Cement, Angel Broking said in a note on Wednesday.
On July 4, UltraTech cement amended its deal with Jaiprakash associates and Jaypee Cement to acquire 21.1 million tonnes of cement business. Under the revised agreement, UltraTech Cement will pay Rs. 16,189 crore as against Rs. 15,900 crore agreed upon in March this year.
The transaction, which is subject to the approval of shareholders and creditors, high courts and all other regulatory approvals as may be required, will be completed within the next 12 months, the company had said in a statement.