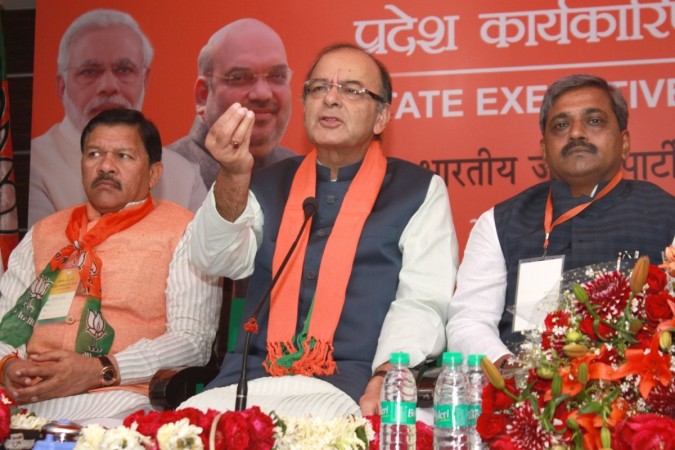 Ultra-left and a small section of "jihadis" were behind the events that unfolded at Hyderabad Central University (HCU) and Jawaharlal Nehru University (JNU) recently, Union Finance Minister Arun Jaitely reportedly said Sunday.
A majority of "ultra-Left" people were involved in the movements at JNU and some "jihadis" with their faces covered were present at the Feb. 9 event, in which anti-national slogans were allegedly shouted, he told Press Trust of India journalists. Agitators at HCU "unfairly used" Dr BR Ambedkar's name at the campus, he added.
Students at HCU have been protesting against the suicide of Rohith Vemula, a Dalit research scholar. The protests turned violent following the return of Appa Rao as the university's vice-chancellor. The Hyderabad Police Tuesday arrested 27 students and two faculty members on charges of vandalism and booked under the Prevention of Damage to Public Property Act, the Indian Express reported.
"The moderate Left and the Congress had got trapped into what was otherwise a movement of the ultra-Left," he said, adding that the BJP took it up as an ideological challenge and even won the first round of the "ideological debate."
"We are not raising the debate to this extent (of further rounds) but if somebody against starts the whole idea, then the debate will certainly carry on," he said, replying to the question of possibility of further rounds of "ideological debate."
He further took potshot at the Congress for supporting certain JNU students against the police crackdown on the campus after the Feb. 9 event and the arrest of JNU students' union leader Kanhaiya Kumar.
"In Parliament I had said there are two types of people – one who think first and then act and the other who act first and then think. Congress leaders first took the step. They went and joined and preached that this 'break up of this country' slogan is free speech and we have come here to defend this free speech," he said.