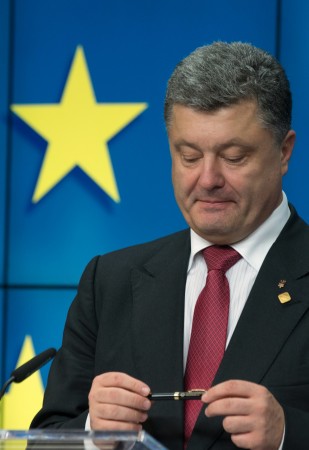 The war in Ukraine's eastern region is all set to further escalate after the new Ukrainian president Petro Poroshenko signed an EU deal that bounds the country closer to the West, economically and politically -- much to the chagrin of Moscow and the Russian-affiliated rebels.
It has increasingly become evident that Poroshenko made the decision in haste, as the political situation in the country is in turmoil with Crimea already declared a part of Russia, while rebels in the East of the country remain resolute to make their attachment with the Russians, official.
On Saturday, a day after Ukraine, along with Georgia and Moldova signed partnership agreements with the European Union; Poroshenko extended a week-long ceasefire with pro-Russian separatists in the east for another three days. This comes amid fears that the agreements with the EU, considered to be the triggering factor for all crises, could further aggravate the separatists and Russia.
Although Poroshenko said the signing of agreements was a "historic" moment, the mood in Russia regarding the decision taken was made clear hours later, when Moscow warned Ukraine of "consequences" and that Ukraine would split in two.
The deadline for the ceasefire was to expire on Friday at 22:00 local time. Reports suggest the extension of the truce was rejected by some rebel leaders in the Donetsk and Luhansk regions –which shares strong connection with the Russian side.
The BBC reports that Separatists in the east held talks on Friday, with mediators including Moscow's ambassador in Ukraine and Ukraine's former President Leonid Kuchma. The leader of the self-declared "Donetsk People's Republic", Aleksander Boroday, has agreed to observe the truce until 30 June.
However, local media quoted other two senior rebels in the Donetsk region as saying that they had rejected the extension of the ceasefire.
The truce can only temporarily dispel the bloodshed if agreed by all parties. The situation in Ukraine has seen a major international political upheaval unfolding in its soil, which seems to have no permanent solution at the moment.
Russia – which calls the new president of Ukraine a 'Nazi' and extremist – is angry that its former Pro-Russia president Viktor Yanukovych was ousted and a pro-West president was appointed 'arbitrarily' under the direction of the Western powers.
The incident led to Russia's annexation of Crimea, the part of Ukraine which comprised of Russian speaking majorities. Separatists in the East of the country, which wants to break away from the western-allied Kiev also started rebelling.