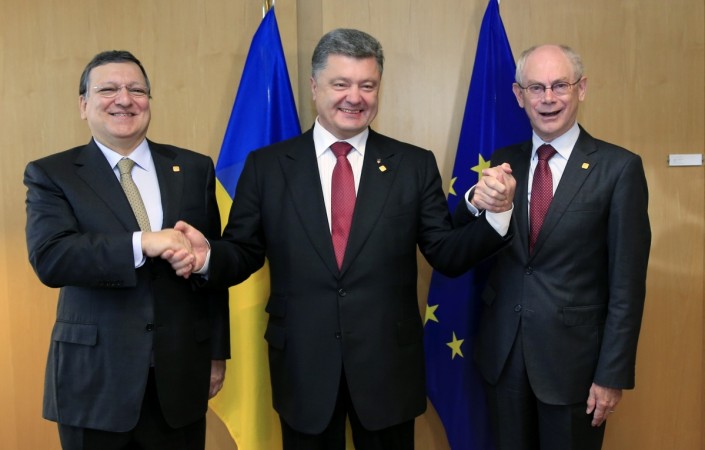 A senior adviser to Russian President Vladimir Putin has called Ukraine president a 'Nazi' in retaliation of a controversial deal Ukraine has signed with EU.
This came shortly before Ukraine, Georgia and Moldova signed partnership agreements with the European Union, in a move strongly opposed by Russia.
Putin's adviser, Seigei Glazyev made those comments during an interview with the BBC, signaling the general mode in Russia regarding the endorsement of the pact, which will see Ukraine being bound more closely to the West economically and politically – much to the dismay and fury of Moscow.
Glazyev told the news channel that "Europe is trying to push Ukraine to sign this agreement by force."
"They organized [a] military coup in Ukraine, they helped Nazis to come to power. This Nazi government is bombing the largest region in Ukraine."
Asked if he believed Ukraine's President Petro Poroshenko was a Nazi, his reply to the news channel was, "Of course".
"I think after the signing of the agreement with EU, [the] European public will be... surprised when this Nazi Frankenstein, which was born by the Euro bureaucrats and some politicians, will knock on the European countries' doors," he said.
The 'full association agreement' that Ukraine's new president signed in the EU summit in Brussels, has been the heart of the crisis that unfolded in the country.
It was this very pact that Porosheko's predecessor Viktor Ynukovych – an ally to the Russians – refused to sign forcing months of protests that eventually overthrew him. It was also the same pact that led to other serious crisis in the region, including Russia's annexation of Crimea in March 2014.
After Russia-leaning Yanukovych was overthrown, Ukraine's Crimea region and pro-Russia separatist in eastern regions declared independence, alleging that Kiev's new government constituted extremist leaders.
Russian speaking rebels in the eastern Ukraine have been launching attacks on the centre's armies ever since the previous government was toppled, and Moscow is accused of aiding those rebels by providing fighting tanks and weapons.
Most Important Day
The signing of the pact comes as the tensions in the Eastern Ukraine appeared to momentarily ease as rebels on Friday released four international observers captured more than a month ago. "We didn't expect anything in return – we freed them without any pre-conditions," Alexander Borodai, the head of the self-proclaimed Donetsk People's Republic said, reported BBC.
But if the gesture was aimed at pleading Ukraine's new president to stop signing the new EU deal, that was not to be.
Poroshenko has previously expressed his firm decision on signing the crucial trade and economic relations portion of the pact.
On his arrivals in Brussels, he reportedly hailed the event as being "a historic day, the most important day since independence" in 1991.