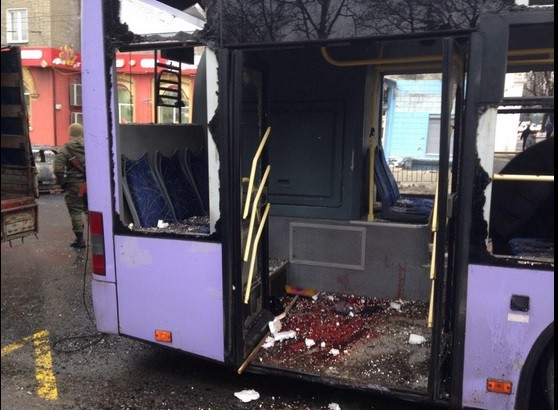 Fresh shelling at a bus stop in Donetsk, Ukraine, has killed at least 13 people, as the military admitted to have lost the Donetsk airport to pro-Russia rebels.
Several passengers on a bus and those travelling in a car nearby were among the victims of Thursday's shelling, according to BBC.
The shelling comes days after an artillery firing on a bus killed 13 in Donetsk's Buhas region.
It is likely to increase tensions despite Russia and Ukraine agreeing on Wednesday on a dividing line to pull back heavy weapons from.
"When discussing Ukrainian problems, the minister stressed on the necessity to cease fire as soon as possible and start withdrawing heavy armaments of the conflicting sides from the line of contact in line with the Minsk agreements," the Russian foreign ministry said in a statement on Wednesday.
Ukraine's president Petro Poroshenko had said on Wednesday that there were currently more than 9,000 Russian soldiers on the ground in east Ukraine.
Ukrainian forces were fighting separatists for control over the Donetsk airport, but admitted on Wednesday that they had lost the airport to the rebels.
However, BBC reported Ukraine's defence ministry as saying that the fighting continued on Thursday morning, and that parts of the airport are still under Ukrainian military control.
Horrific scenes in Donetsk as trolleybus hit, many dead. Surrounding houses windows blown out. Anger & tears, again. pic.twitter.com/58VSTkiBV1

— Shaun Walker (@shaunwalker7) January 22, 2015