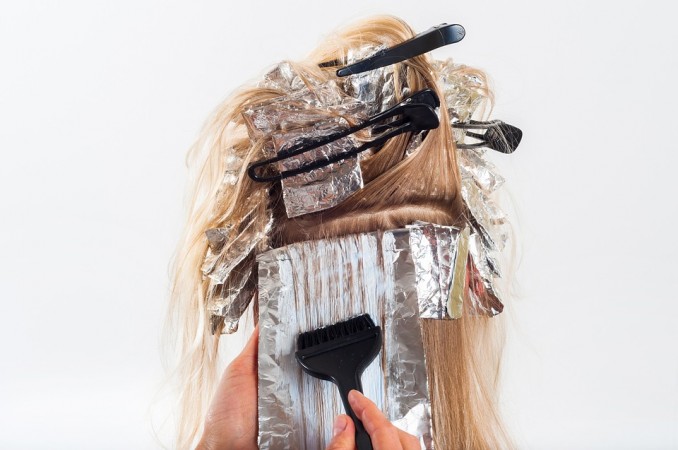 An English woman claims to have got a burnt scalp and swollen eyes after using a home hair dye from Nice 'n Easy. Lauren Woods says that she has been hospitalized three times due to an allergic reaction to the hair dye.
Sharing her ordeal on Facebook, the Sussex mom warned her followers not to use hair dye without patch tests and strand tests. Even though she said she did a patch test before dyeing her hair, the reaction occurred only after two days.
Lauren shared photos of herself before and after the procedure. She even posted pictures of herself lying on a hospital bed on a drip and surrounded by medical equipment. Her eyes appear red and swollen and she said her scalp was badly burnt.
According to Lauren, her ordeal was caused by using Clairol Nice 'n Easy no ammonia hair dye Black 83. After dying her hair on February 8, she had a day and half of bliss before the symptoms started appearing on February 10.
When her forehead started swelling, she called her mother and rushed to the hospital. Although she was treated and discharged from hospital two times over the next few days, her condition continued to worsen. Her face and head also have become swollen now.
On February 10, Lauren found that she could not open her eyes. She was admitted to the hospital for the third time and put on a drip. Her Facebook post has been shared about 9,500 times as of now and people are expressing their shock and sympathy for her condition.
"Dying my hair is definitely not worth the amount of pain I've been in," shared Lauren on her Facebook page. "I don't want anyone to have to go through what I've had to go through these last few days so please can you share and raise awareness that this isn't just something you see in the papers."
Lauren's story has brought forth many more accounts of allergic reactions caused by hair dye. Another user, Laura Wilde, commented that she had suffered from delayed anaphylactic shock after dyeing her hair and had spent almost a month in a hospital's heart ward.