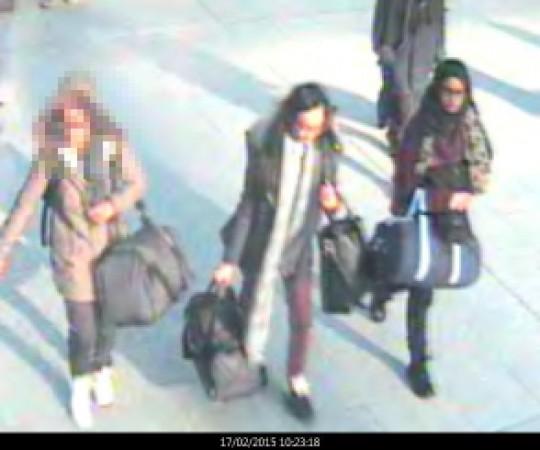 British Police have launched an international hunt to find three schoolgirls, described as "straight-A students", who are possibly travelling to Syria to join ISIS.
Scotland Yard's counter-terrorism detectives have appealed for information on the whereabouts of 15-year-old Shamina Begum, 16-year-old Kadiza Sulta, and another 15-year-old girl whose name has not been revealed. Shamina may be travelling under the name of Aklima Begum.
Officials said all the three girls left their homes at around 8 am on Tuesday morning and met at Gatwick Airport, from where they boarded an Istanbul-bound Turkish Airlines flight.
All of them went to the Bethnal Green Academy in East London and have been described as "straight-A students". Urging the youngsters to return to their "devastated" families, detectives from the Metropolitan Police appealed for urgent information about them.
"We are extremely concerned for the safety of these young girls and would urge anyone with information to come forward and speak to police. Our priority is the safe return of these girls to their families," Counter Terrorism Command (S015) Commander Richard Walton said via a release.
"We are reaching out to the girls using the Turkish media and social media in the hope that Shamima, Kadiza and their friend hear our messages, hear our concerns for their safety and have the courage to return now, back to their families who are so worried about them,"
The official also raised concerns over the number of teenage girls and young women travelling to the part of Syria that is controlled by the deadly militants, who identify themselves as Islamic State. The international community considers the jihadist group poses a bigger threat to world peace than al-Qaeda outfit.
"The choice of returning home from Syria is often taken away from those under the control of Islamic State, leaving their families in the UK devastated and with very few options to secure their safe return," Walton said stressing the fact that the ISIS stronghold in Syria and Iraq are extremely an dangerous place.
Shamina is 5 feet 7 inches tall, and is wears a black thick-rimmed pair of glasses and a black hijab. She was wearing a light brown and black leopard print scarf, black grousers, jacket, and dark red jumper when last seen.
With a height of 5 feet 6 inches, Kadiza has been described as "tall, of slim build". She was wearing black rimmed glasses, long black jacket with a hood, grey striped scarf, dark red trousers, grey jumper, and was also carrying a black holdall.
The third missing girl – who has not been named at her parents' request – is 5 feet and 6 inches tall. She also has a slim build, and was "wearing black thick rimmed glasses, black head scarf, long dark green jacket with fur lined hood, light yellow long sleeved top, black trousers, white trainers carrying a black Nike holdall," according to a Met Police Press Release.