Aadhaar cardholders can now store and carry their demographic information anywhere on their smartphone, thanks to the launch of mAadhaar mobile app for Android by the Unique Identification Authority of India (UIDAI). The app is available as a free download on Google Play Store.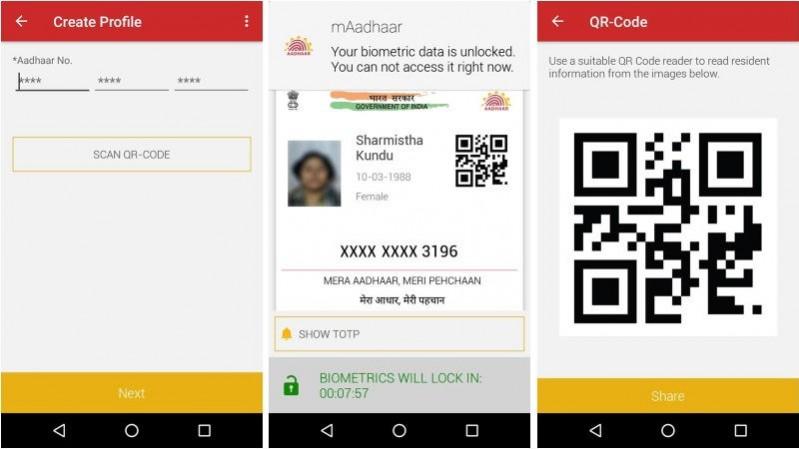 The mAadhaar is a tiny app (10.80MB) which acts like a repository of Aadhaar cardholder info including Name, Date of Birth, Gender, and Address along with the photograph as seen in the Aadhaar card.
Some of the basic features supported by mAadhaar include biometric locking/unlocking, Sharing of QR code, Time-based One-Time Password generation and eKYC data along with Aadhaar profile download.
As the Aadhaar cardholder info is available in the digital format, it acts as a substitute to the hard copy of the card. Using the mAadhaar app, users can generate an updated view of the profile, besides retrieving accurate demographic info from it instead of using manual entry.
UIDAI has confirmed in its recent announcement tweet that the app is still under beta testing and hence some features are disabled in this release which will be added in the upcoming updates.
mAadhaar app prerequisites
A registered mobile number is essential to use mAadhaar app.
You can visit the nearest Enrolment Centre/Mobile Update End Point to get your mobile number registered.
You will need Android 4.4 and upwards preinstalled to use mAadhaar app on your phone.
Linking Aadhaar number to PAN card has been made mandatory from July 1 as per the new amendment to the tax proposals in the Finance Bill for FY2017.
Here's how you set up the mAadhaar app for first use:
Download the app and setup a unique password, followed by entering the 12-digit Aadhaar number.
The app will send an SMS with OTP number for verification on your registered mobile phone. This method will work only if your handset has the registered SIM inserted.