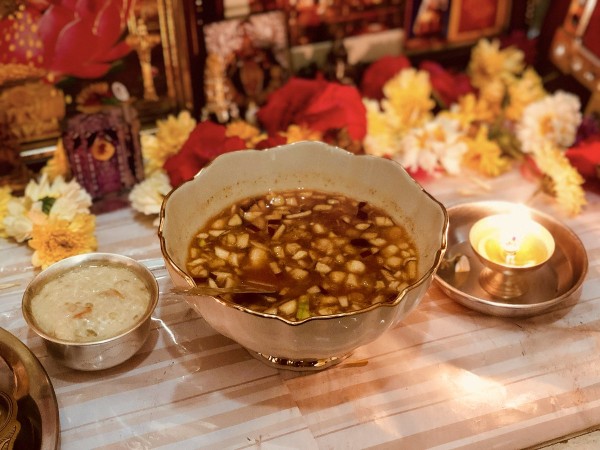 Mahesh Babu, Jr NTR, Allu Arjun, Samantha Akkineni, Rakul Preet Singh, Lakshmi Manchu and a host of other Tollywood celebs have wished a happy new year to their fans on the occasion of Ugadi 2018.
The word 'Ugadi' is derived from Sanskrit words yuga (age) and ādi (beginning) and this means the beginning of a new age. Ugadi is the New Year's Day for Hindus of Andhra Pradesh and Telangana. This festivity includes drawing colorful patterns on the floor called kolamulus (Rangoli), decorating the door with mango and neem leaf, wearing new clothes, special oil treatment and bath and visiting Hindu temples.
Another interesting part of this festival is a special food called pachadi that combines all flavors – sweet, sour, salty, and bitter. It is a symbolic reminder that one must expect all flavors of experiences in the coming new year and make the most of them.
A host of Telugu celebs took to social media to wish their fans on this occasion. Here are their wishes and greeting cards shared on Twitter.
Mahesh Babu: I wish you all new courage, new hope & new beginnings. May the new year bring everything you honestly desire. Me andariki Ugadi Subhakankshalu :) #HappyUgadi
Rana Daggubati: Happy Ugadi everyone!! Have a fantastic year!
Samantha Akkineni: Wishing all of you a very happy and prosperous Ugadi❤️ May this be a wonderfully fulfilling year #HappyUgadi
Kajal Aggarwal: Wishing you and your family a very happy and prosperous Ugadi Stay blessed!! #HappyUgadi #HappyGudiPadwa
Lakshmi Manchu: The raw mangoes, neem and jaggery represent the sour, bitter and sweet flavours of life. May your life only be filled with sweetness. Happy #Ugadi!
Rakul Preet: Happy Ugadi to all of u !! blessings from Tirupathi !! Stay blessed stay happy
Kalyanram Nandamuri: మీకు మీ కుటుంబ సభ్యులకు శ్రీ విళంబి నామ సంవత్సర ఉగాది శుభాకంక్షాలు . Wishing you all a very #HappyUgadi
Nani: మీకు...మీ కుటుంబ సభ్యులకు విళంబి నామ తెలుగు సంవత్సర ఉగాది శుభాకాంక్షలు. Wishing you all a very very Happy Ugadi .. A new journey begins today .. First day shoots are always special :))
మీకు...మీ కుటుంబ సభ్యులకు విళంబి నామ తెలుగు సంవత్సర ఉగాది శుభాకాంక్షలు.

Wishing you all a very very Happy Ugadi .. A new journey begins today ..
First day shoots are always special :)) pic.twitter.com/yXRQakPyUC

— Nani (@NameisNani) March 18, 2018
Adivi Sesh: Happy #Ugadi guys! Take this opportunity to get rid of negativity and for auspicious beginnings :)
Ram Pothineni: Andhariki Ugadi Subhakankshalu.. #Love -R.A.P.O
Sushanth A: అందరికి ఉగాది శుభాకాంక్షలు! Happy Ugadi everyone! & Thank You to each one of you for the birthday wishes, reading all of them
Hamsa Nandini: Put all the shadows of the past behind. Let's look forward to new start, Realize new aspirations and dreams, Find new courage and hope to achieve them. Wishing you an Ugadi filled with happiness and fun! #GudiPadwa #Swanstories
Put all the shadows of the past behind.
Let's look forward to new start,
Realize new aspirations and dreams,
Find new courage and hope to achieve them.
Wishing you an Ugadi filled with happiness and fun!#GudiPadwa #Swanstories pic.twitter.com/JB3uwEsA2I

— Hamsa Nandini (@ihamsanandini) March 18, 2018
త్రేతాయుగమున విళంబినామ సంవత్సరంలో శ్రీ రామచంద్రుడు పుట్టాడని చెబుతారు. అలాంటి యుగపురుషుడు మళ్ళీ ఈ విళంబినామ సంవత్సరమున పుట్టి పేద ప్రజల కడుపులు కొడుతున్న కొంతమంది రాజకీయ నాయకులమీద రామబాణం సంధించాలని కోరుకుంటూ ప్రజలందరికీ ఉగాది శుభాకాంక్షలు.

— Mohan Babu M (@themohanbabu) March 18, 2018
March 18, 2018
Happy Ugadi! pic.twitter.com/eqAWb724cz

— Vishnu Manchu (@iVishnuManchu) March 18, 2018
మీకు మీ కుటుంబసభ్యులందరికి విలింబి నామ తెలుగు సంవత్సర శుభాకాంక్షలు .. Happy Ugadi to one and all !! Have a great year ? https://t.co/yjLYjbyyqs

— kona venkat (@konavenkat99) March 18, 2018
మీ ఇంట ఆయురారోగ్య ఐశ్వర్యాలను నింపాలని,మీరు సుఖ శాంతులతో తులతూగాలని, ఆశిస్తూ...శ్రీ విళంబి నామ సంవత్సర ఉగాది శుభాకాంక్షలతో...మీ బండ్ల గణేష్ ??

— BANDLA GANESH (@ganeshbandla) March 18, 2018
మీకు...మీ కుటుంబ సభ్యులకు విళంబి నామ తెలుగు సంవత్సర #ఉగాదిశుభాకాంక్షలు #HappyUgadi

— Jaggu Bhai (@IamJagguBhai) March 18, 2018
మీకు...మీ కుటుంబ సభ్యులకు విళంబి నామ తెలుగు సంవత్సర ఉగాది శుభాకాంక్షలు !! pic.twitter.com/wyp8SXoJNV

— Gopichand Malineni (@megopichand) March 18, 2018
??మీకు మీ కుటుంబ సభ్యులకు ఉగాది పండుగ శుభాకాంక్షలు??

— Madhura Sreedhar Reddy (@madhurasreedhar) March 18, 2018
అందరికి విళంబి నామ సంవత్సర ఉగాది శుభాకాంక్షలు. ??

— BVS Ravi (@BvsRavi) March 18, 2018
శ్రీ విళంబి నామ సంవత్సర ఉగాది శుభాకాంక్షలు .. Happy Ugadi ?????? pic.twitter.com/wAagvKvYLx

— vennela kishore (@vennelakishore) March 18, 2018
శుభోదయం...అందరికీ ఉగాది శుభాకాంక్షలు ?

— Ramajogaiah Sastry (@ramjowrites) March 17, 2018
మీకు మీ కుటుంబ సభ్యులకు శ్రీ విళంబి నామ సంవత్సర ఉగాది శుభాకంక్షాలు . A very #HappyUgadi to one and all pic.twitter.com/slsTamS7G1

— NTR Arts (@NTRArtsOfficial) March 18, 2018
అందరికి హృదయపూర్వక #ఉగాది శుభాకాంక్షలు.

May the new year bring joy, peace and happiness to you and your family #HappyUgadi pic.twitter.com/8yyhzq5tY2

— Vaaraahi Productions (@VaaraahiCC) March 18, 2018