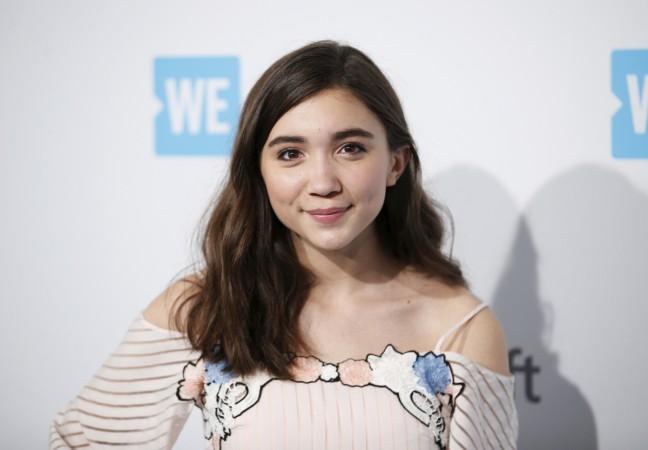 Teen feminist and "Girl Meets World" star Rowan Blanchard claims to have spotted an unidentified flying object (UFO) in New York this week. Blanchard posted a photo on Instagram of the sky with an unusual object.
The photo appears to show a glowing object in the shape of a saucer hovering in the sky above the street light posts. Blanchard said the unidentified object was visible only in the photo. "Say what u will but that thing was just appearing in the photo and wasn't physically there," she posted on Instagram along with the photo.
The photo on Instagram received 112,000 likes with more than 1,680 comments. The 14-year-old Disney actress' Instagram photo excited alien and UFO hunters, but a few said that the circular object was nothing more than a glare from the window from where she took the photo.
UFOlogists said that the UFO was 90 percent cloaked at the time Blanchard took the photo. Scott C Waring, a famous UFOlogist, also commented on the photo saying: "Sunset is the most common time UFOs cloak becomes vulnerable."
Waring later explained on his blog why Blanchard was only able to capture the outline of the UFO. According to Waring, sunset is the most common time for the UFOs to be seen. He further explained that it happens because of the "bending of the light, the observer and the angle of the sun."
"While visiting in New York City, she chanced to take a photo during a beautiful sunset, and accidentally captured a UFO disk that is 90% cloaked. This is 100% evidence that aliens do watch over New York City with enthusiasm," Waring explained.
Meanwhile, Blanchard shared another photo on Instagram that points out that "Beatles" co-founder John Lennon spotted a UFO on the exact same day, 42 years ago. On Aug. 23, 1974, Lennon spotted a UFO in New York City and on the same day this year Blanchard spotted one, her makeup artist Amy Strozzi found out, according to Blanchard's Instagram post.