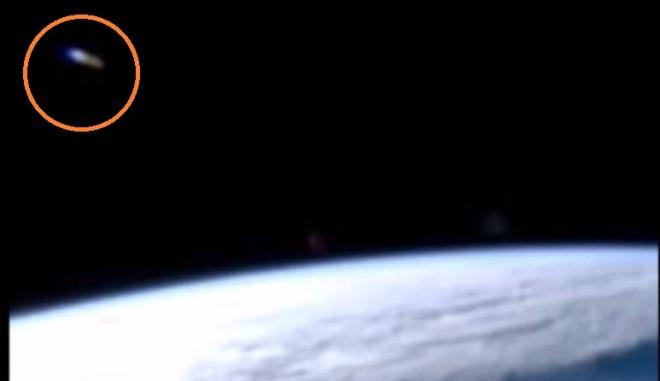 An Unidentified Flying Object (UFO) appeared close to NASA's International Space Station (ISS) on Thursday, 9 April, suggests a report by Scott C Waring, Ufologist and author of the blog UFO Sightings Daily.
The UFO can be seen not far from the Space Station in a video titled 'Emergence' and posted by YouTube user Streetcap1. According to the description of the video, the footage has been obtained from NASA's website.
"More frequent than before, UFOs are seen at the ISS even though NASA tries to limit observation time on individual cameras. The best stuff is deleted from public archives."
The UFO seen in the video appears to be blue in colour and is long shaped. It appears to be stationary and disappears after a few seconds.
"This UFO is very clear compared to most and shows a long wide object. Streetcap1 of Youtube caught it. We can all see from this evidence that the object in the photo solid. NASA is breaking, as we can see from their announcement yesterday about how they will find alien life in the next 20 years. Lets make it 2 shall we?" commented Waring along with the post on his blog.
This is not the first time a UFO has been captured in a video by NASA. Earlier in 2013, an image of a UFO was captured by the agency. The image showed a disc-shaped object hovering above the Earth's surface, sparking feverish debate among netizens.
The UFO in the image appeared to be emitting strange, rainbow-like colourful lights above the Earth's surface.
Also, in 2013, a very similar story had appeared when two UFOs were spotted near ISS. The UFOs were spotted on a live video feed from the ISS camera, which maintains a 24-hour feed.
UStream, the channel that broadcasts the live stream says: "Live video from the International Space Station includes internal views when the crew is on-duty and Earth views at other times. The video is accompanied by audio of conversations between the crew and Mission Control. This video is only available when the space station is in contact with the ground."
Check out the video of the latest sighting here:
Video Courtesy: Youtube/Streetcap1