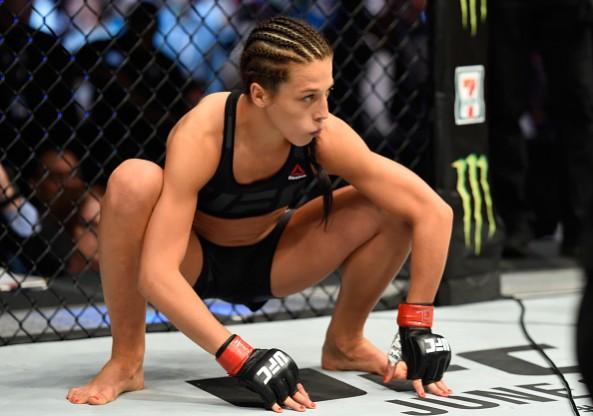 Polish fighter Joanna Jedrzejczyk is definitely the most dominant pound-for-pound fighter in the UFC at the moment. The strawweight champion may have already reached the level of Ronda Rousey and looks keen on taking forward her legacy even further.
After five successful title defences, the 29-year-old looks to emulate the UFC's undisputed top rated star Conor McGregor, by moving up to the proposed women's flyweight division next year and hold two different weight titles.
Joanna, who was pushed to the limits by Jessica Andrade earlier this month but still came out victorious at UFC 211 via a unanimous decision, now wants to follow the path of McGregor, whose possible return to combat sports sees him going against the legendary Floyd Mayweather Jr in a boxing ring.
Who is Joanna Jedrzejczyk?
Born: August 18, 1987, in Olsztyn, Poland
Weight division: Strawweight (115 pounds)
Height: 5'6"
Achievements: UFC Strawweight Champion (2015-present)
Five successful title defences
MMA record: 13-0-0
UFC debut: UFC Fight Night (July 2014)
Upcoming fight: Joanna vs Jessica Andrade (UFC 211)
Personal life: Engaged to Przemysław Buta
Joanna, meanwhile, has mentioned that he doesn't want to be like McGregor in a "bad way", raising questions about what could possibly be tagged as bad habits of McGregor, by Joanna.
"I want to be like Conor McGregor, I mean not like in a bad way, but I would like to challenge myself," said Joanna to TMZ Sports.
"Like Conor says, it's all about hard work, passion and big challenges. So I want to reach there as well," she added. "I want to be the champion of two divisions."
If Joanna does indicate McGregor's thrash talking, a mouthful of profanities and the bad-boy attitude as something she doesn't like, we feel she might be thinking otherwise if she follows the Irishman's Instagram account, lately!