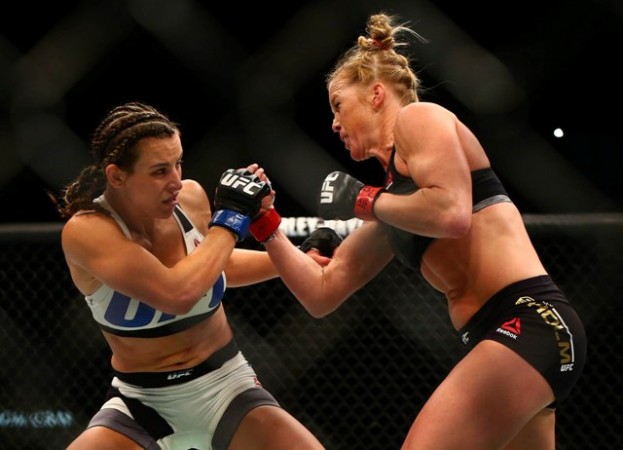 UFC Women's Bantamweight champion Miesha Tate will be defending her title for the first time in the MMA promotion's landmark event UFC 200, scheduled for July 9. The 29-year-old will face Brazil's Amanda Nunes, who made her debut in the UFC only in 2013, in the co-main event of the PPV.
The announcement was made at the "UFC Tonight" show Wednesday.
It took several years for Tate to achieve what was a dream for her -- to become the UFC women's champion one day. The American fighter, who has faced Ronda Rousey twice in the past, defeated former champion Holly Holm in the co-main event of UFC 196 to become the new champion.
Holm almost won the five-round bout as the fight went the distance and it was just awaiting the judges' decision in the end. Tate then made a massive turnaround as she took her opponent to the ground in the dying moments of the fifth round and caught her with a deadly Rear Naked Choke.
A former pro boxer, Holm's flaws in the ground game showed as she couldn't defend the submission move and had to tap out.
Although fans expected Tate to either go into the rematch against Holm or take on a returning Rousey in UFC 200, the company decided to give a fresh face to the opportunity. "Ronda is out until November or December," Tate was quoted by ESPN as saying on UFC Tonight.
"Holly, it was her first defense, she wasn't successful. It's not like she was a long-reigning champion, and I finished that fight. So I think the most dangerous woman is Amanda Nunes.
"I love (the matchup)," Tate told MMA Fighting." "I think she's [Amanda Nunes] really tough. She's on a four-fight winning streak, she's got a lot of momentum, and she's really dangerous. I asked to fight the next best person in line, and that's what they told me."
Nunes, a well-rounded fighter, lost only to Cat Zingano in 2014 in her UFC career so far. She recorded a unanimous decision win against Valentina Shevchenko just last month in UFC 196.
Meanwhile, the UFC 200 headliner will be a rematch between Nate Diaz and Conor McGregor in a five-round welterweight fight.