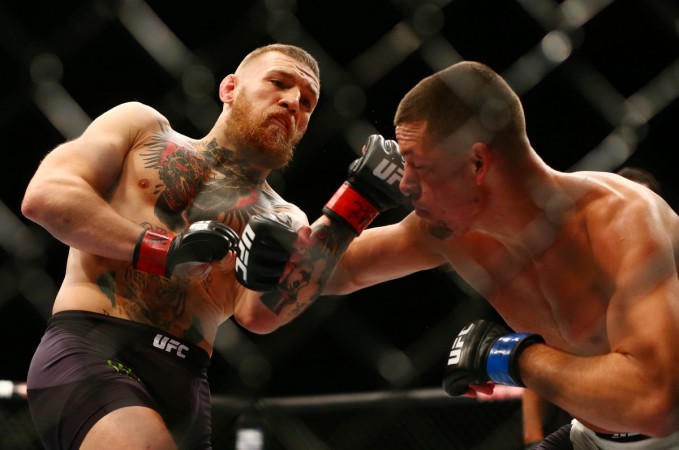 The Conor McGregor-Nate Diaz saga will continue to UFC 200, the MMA company's president Dana White confirmed Wednesday. The two decorated fighters will have their rematch in the company's landmark event, scheduled for July 9 at the T-Mobile Arena in Las Vegas.
Just as their UFC 196 bout, the two will clash in a five-round welterweight (170 lb) non-title fight in the UFC 200 headliner.
McGregor got submitted by the American in the second round of their bout earlier this month. White said the Irishman was obsessed with a rematch, but didn't quite look too keen of getting into a second UFC Featherweight championship defence. Hence, the current fight will be in the welterweight division.
"He was obsessed — obsessed with fighting Nate Diaz again," White told SportsCenter. "Obviously, [UFC CEO] Lorenzo [Fertitta] and I tried to argue with him and said, 'Let's go back to 145 (pounds) and defend your title. Or if you really want the Diaz fight that bad, do it at 155 (pounds).
"He wants the fight at 170.
"Even his coach [John Kavanagh] tried to get him to get off the rematch and off the 170-pound fight," White added. "But it's what he wanted."
McGregor is one of the biggest A-listers in UFC at the moment, and has been instrumental in shattering gate records through his insane popularity. Therefore, White and Fertitta had to get his opinion prior to deciding the fight fixture.
The Irishman will however be up against Jose Aldo or Frankie Edgar post-UFC 200. White confirmed that the PPV will also feature an interim UFC Featherweight title bout between Aldo and Edgar. "Win, lose or draw in this fight against Nate Diaz, (McGregor) will go in and fight either Jose or Frankie," White said. "Whoever wins at UFC 200."
The British businessman also said there could be as many as three women's fights in UFC 200. "There will be a couple women's fights at UFC 200," White was quoted by Fox Sports. "Actually, two or three maybe."
While nothing has been confirmed about the women's fights, it is expected that current UFC Bantamweight title holder Miesha Tate will go into her first title defence, while it looks unlikely that UFC Strawweight champion Joanna Jedrzejczyk will play any role.
The Polish kickboxer takes on Claudia Gadelha at TUF 23 finale, scheduled for July 8.