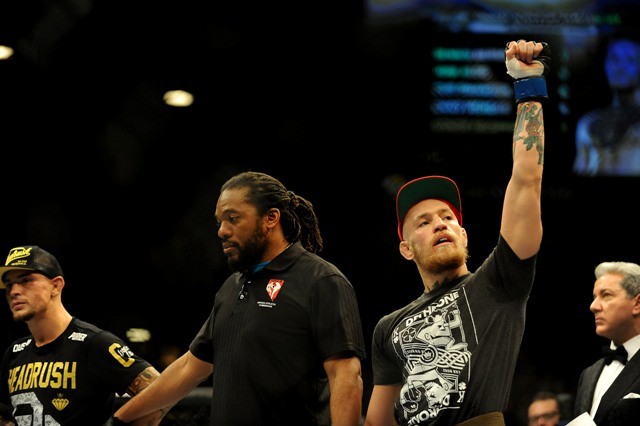 "I am not a company man, I am the company". Conor McGregor made clear of his intentions as he left his home in Dublin, Ireland, on Monday morning for Las Vegas, where he awaits UFC Featherweight champion Jose Aldo in the main event of UFC 194.
The final UFC PPV of the year is expected to take everyone by storm as the fight between Aldo and McGregor has been many months in the making. The duo were supposed to face in the main event of UFC 189, but Aldo had retired from the fight owing to a rib injury.
McGregor faced Chad Mendes in the main event of the PPV, and won the fight to become the interim title holder. Now, the Featherweight title happens on 12 December at the MGM Grand Garden Arena in Las Vegas.
The Irish MMA fighter have posted videos frequently from his workout sessions at Ireland's Straight Blast Gym, and have left everyone awestruck with his intensity. According to McGregor's coach Owen Roddy, the UFC A-lister is determined to make a strong impact on the D-Day to snatch a great win.
"I think Conor is going to shock everybody again," Roddy, who has been training McGregor for the last ten years, told Fightland Vice. "Honestly, I think he's going to make this look easy. I really think Conor is going to embarrass Aldo.
"I think Aldo is going to come out very aggressive, Conor will make him miss and then he's going to punish him for that with his devastating striking. Aldo has to close that distance and Conor is a lot bigger than him, he's a lot longer.
"In order for Aldo to land, he's going to have move forward. He has to get on the inside to land them shots and that's when he's going to get clipped. Conor is going to be very elusive and he'll crack him as he's trying to come in," Roddy gave a detailed explanation.
UFC released the promo of the fight last week. Check it out HERE.