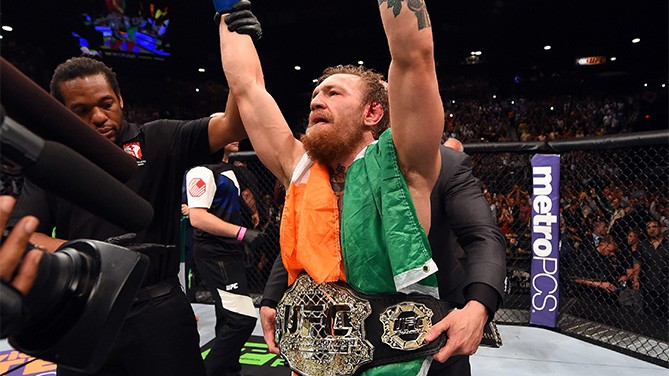 The last two huge UFC PPVs (pay-per-views) of the year 2015 were supposed to take the MMA (mixed martial arts) world by storm, and while UFC 193 lived up to it by every means. Even creating history!
There's one more to go. Wait for UFC 194.
The first promo of the much-anticipated 'war' (this is expected to more than just a fight) between UFC featherweight champion of the world Jose Aldo and the interim UFC featherweight champion of the world Conor McGregor is out, and the first glimpse of it is sure to send chills down your spine.
UFC 194 takes place at the MGM Grand Garden Arena on 12 December, 2015, and at the end of the night, everyone will get a glimpse of the undisputed UFC featherweight champion of the world.
The duo were set to take on each other in the main event of UFC 189, but Aldo had retired from the fight owing to a rib injury. McGregor faced Chad Mendes in the main event of the PPV, and the Irishman displayed some brutal skills to become the interim title holder.
The 'Notorious' McGregor has some strong message for Aldo now: "I would have whooped him [in July, in UFC 189]," the Irishman was quoted by Omnisport. "History shows that he [Aldo] doesn't show, so I hope he does, that's all I say."
The build-up to the war has been insane, and fireworks are expected to fly, along with leg kicks and jabs and takedowns, once these two decorated MMA fighters get inside the cage on the D-Day. The promo showcases both of them coming head-to-head in an empty street in Las Vegas, and the next moment, the spotlight moves inside the cage.
Check the video below: