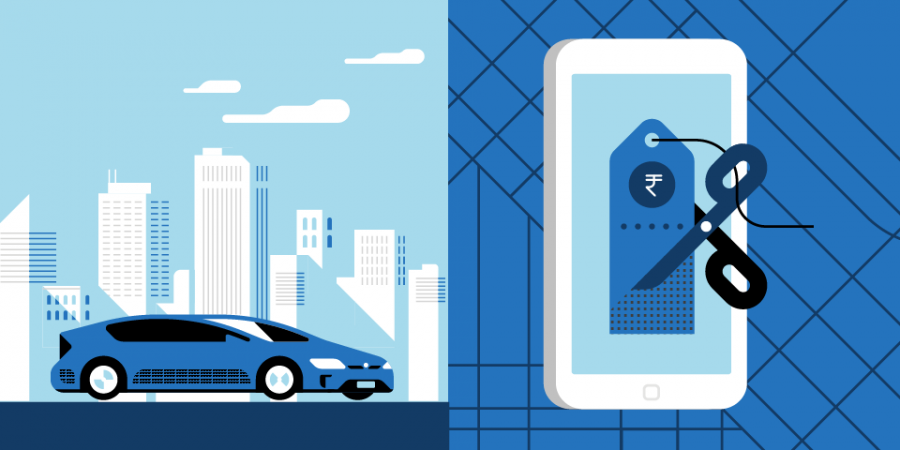 Cab service provider Uber has aggressively slashed fares of its affordable UberGO service by up to 22 percent, a move that could worry its rival Ola, among others cab providers. Uber said the rides will be cheaper in 10 non-metro cities across India.
In an official blog post Tuesday, Uber said that fares for the UberGo service will be at least nine percent cheaper in select cities like Indore and Nagpur, while maximum fare cut will take place in Jodhpur and Udaipur. With the new fares in effect, the base fare for a ride in Udaipur and Jodhpur will be Rs. 25 instead of Rs. 40 and the per kilometer charge will be Re. one cheaper to Rs. seven.
"We're always working to make Uber the most affordable transportation option for our riders and an attractive economic opportunity for hundreds of thousands of micro-entrepreneurs on our platform," the company said. "Starting today, we are reducing UberGO prices in ten cities across India."
Following the latest price cuts in the listed cities, the base fare and per kilometer charges are as follows:
| | | | |
| --- | --- | --- | --- |
| City | Price reduction (%) | Base fare | Per kilometer charge |
| Indore | 9% | Rs 30 | Rs. 5/km |
| Nagpur | 9% | Rs 40 | Rs. 5/km |
| Pune | 15% | Rs 35 | Rs. 6/km |
| Vizag | 16% | Rs 40 | Rs. 5/km |
| Ahmadabad | 17% | Rs 20 | Rs. 5/km |
| Ajmer | 18% | Rs 25 | Rs. 7/km |
| Trivandrum | 18% | Rs 40 | Rs. 7/km |
| Mangalore | 20% | Rs 30 | Rs. 7/km |
| Jodhpur | 22% | Rs 25 | Rs. 7/km |
| Udaipur | 22% | Rs 25 | Rs. 7/km |
While announcing the price cuts, Uber also mentioned that it would benefit the drivers who can now spend more time riding and less time waiting. "More demand increases driver efficiency on the road, resulting in more trips per hour, and less idle time while driving on Uber," the cab aggregator said.
Uber's rival Ola triggered a price war in India with the launch of Ola Micro, an affordable service that offers rides at Rs. six per kilometer. The service is available in major cities, including Delhi, Bengaluru, Mumbai, Chennai, Kolkata, Hyderabad, Pune, Jaipur, Ahmedabad, Chandigarh, Bhubaneswar, Coimbatore and Guwahati. Ola said it is on the verge of surpassing Uber in terms of number of rides, Gadgets360 reported.
Both the companies have been making robust efforts to attract more riders to their platforms. Uber and Ola had launched bike-taxis in select cities in India, which met resistance from the government. Last month, Uber revealed plans to invest $500 million in India by June, after it announced to invest $1 billion in India ten months ago. Ola, so far, has raised about $1.2 billion. Uber and Ola are driving most of their revenues from Bengaluru, Hyderabad, Chennai, New Delhi-National Capital Region and Kolkata.