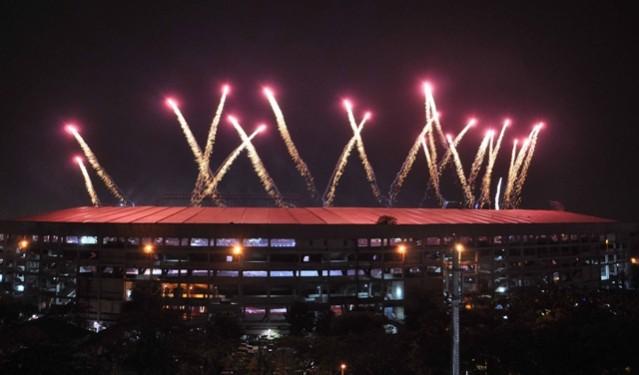 With all of the group matches of the India U17 football team shifting to New Delhi, thanks to the demands coming from some sections of the Narendra Modi government to have the hosts play in the national capital, football fans in Kolkata, especially, are about to suffer.
While the big final may be hosted in the iconic Salt Lake Stadium, the chances of witnessing India play in that match is actually less than 5 percent. Unless we are set for some major shocks!
Read: Salt Lake Stadium tickets sold in a day, but now all might be in vain!
The total of 24 teams be participating in the FIFA U17 World Cup 2017 have been announced and the pots of the draw has been decided as well. The all-important draw of teams is set to take place on Friday, July 7, in Mumbai's Hotel Sahara Star.
POT 1: India, Mexico, Brazil, Germany, Mali, France
POT 2: Spain, Japan, New Zealand, England, Costa Rica, Iran
POT 3: United States, North Korea, Honduras, Iraq, Colombia, Turkey
POT 4: Chile, Paraguay, Ghana, Guniea, Niger, New Caledonia
Tournament format
Following the draw, the 24 teams will feature in six groups of four teams each.
On account of being the hosts, India are automatically the first team from Group A, i.e, they are classified as A1.
The two toppers from every group progress further, while the four best third-placed teams from six groups join them.
Now, let us have a look at FIFA's updated schedule of the FIFA U17 World Cup
India's confirmed group matches
October 6: India (A1) vs A2
Venue: JLN Stadium, Delhi
October 9: India (A1) vs A3
Venue: JLN Stadium, Delhi
October 12: A4 vs India (A1)
Venue: JLN Stadium, Delhi
Possible knockout stage scenarios
If India is second from Group A
October 16: India (2A) vs 2C
Venue: JLN Stadium, Delhi
If India tops Group A
October 18: India (1A) vs 3 C/D/E
Venue: DY Patil Stadium, Navi Mumbai
If India enter the round of 16 by virtue of being one of the third-placed teams
October 16: 1B vs India (3A/C/D)
Venue: JLN Stadium, Delhi
or
October 17: 1C vs India (3A/B/F)
Venue: DY Patil Stadium, Navi Mumbai
Scenarios where India matches could play at the Salt Lake Stadium
Quarter-finals
If India wins the October 16 match between 2A and 2C.
Condition: India have to be runners-up from Group A and win their round-of-16 match
Semi-finals
No matches scheduled at the Salt Lake Stadium
Final / Third-place match
IF India manages to reach....