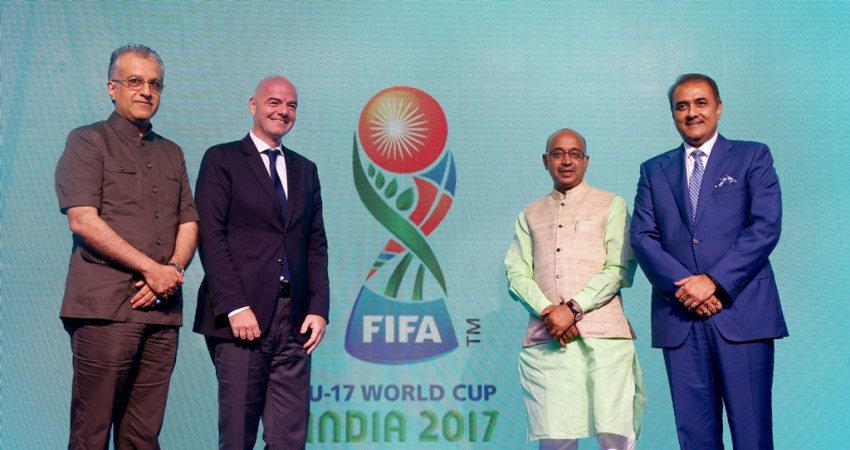 The official logo for FIFA U17 World Cup to be held in Indian in 2017 was launched on Tuesday in a grand event in Goa, attended by FIFA President Gianni Infantino, AIFF President Praful Patel and many other bigwigs. One look at the logo from a distance showcases the FIFA World Cup, but as we come closer to it, we get to see various features of the logo.
Next year's World Cup is the first-ever FIFA event that will take place in India and the occasion will be a memorable one. Keeping that in mind, the LOC (Local Organising Committee) of the tournament unveiled the logo which celebrates the country's rich heritage and diverse culture.
What can you see in the logo:
Indian Ocean -- An integral part of the subcontinent.
Banyan Tree -- National tree of India.
Kites -- Symbolises freedom and aspirations.
Starburst -- An interpretation of the 'Ashoka Chakra' -- an integral part of the India flag. This also showcases the diverse culture in the country where people of all religion, caste and creed take part in various festivals with elan.
"The FIFA U-17 World Cup is a new chapter in the history of Indian football and we need to make sure that it is one of the best FIFA Tournaments ever held in the World," said Infantino in the event. "The passion for football has the ability to take us forward from the U-17 World Cup and we need to capitalize on that," he added.
Sports minister Vijay Goel, who was also present at the event, mentioned that the U17 World Cup gives a wonderful opportunity for India to cash on the growing passion for the beautiful game. "FIFA U-17 World Cup 2017 India is a wonderful opportunity to capitalize on the growing passion of Football in India," Goel said.
"We need to make the most of this opportunity and create a revolution which indulges the whole nation in football," Goel added.