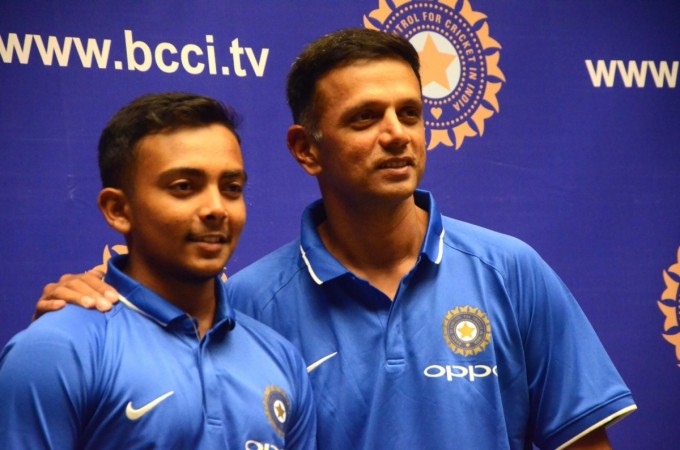 It is time for another round of India-Pakistan contest on a cricket field. Tomorrow (January 30), in Christchurch, New Zealand, the arch rivals face off in the second semi-final of the ICC Under-19 World Cup. Ahead of the knockout clash, India coach and batting legend Rahul Dravid has a message for the players.
Due to tensions between the countries there is no bilateral cricket series. India and Pakistan meet only at International Cricket Council's (ICC) global tournaments. It is another chance for both countries' fans to enjoy the action, though this time at the Under-19 level.
The recent meeting (at the senior level), was in England in June 2017 when Pakistan defeated Virat Kohli-led India in the final of ICC Champions Trophy.
"It's exciting to play an India-Pakistan game because under-19 cricket is all about experiences, about giving them different learning environs. The last couple of years we haven't had a chance to play Pakistan at any level, so it's really nice that it has panned out the way it has," Dravid was quoted as saying in a media release issued by ICC on Monday.
Dravid is not new to India-Pakistan exchanges on the cricket field. He was part of the famous win in 2003 World Cup game when Sachin Tendulkar demolished the Pakistan bowling with a superb 98 at SuperSport Park in Centurion, South Africa. Dravid himself scored an unbeaten 44 to guide the team home in chase of 274.
The 45-year-old Bengalurean wanted the boys to experience the game on Tuesday and learn from it when they graduate to the senior level.
"Irrespective of the result, at least the guys would get to feel what it is to play an India-Pakistan game. Maybe somewhere along the line they will grow up as men and become cricketers who play for India and some of the Pakistani boys will play for Pakistan. They would have then done it before," Dravid, who played 164 Tests, 344 ODIs and one T20I, added.
Prithvi Shaw-led India have been dominant in the ongoing World Cup. They are unbeaten so far, winning against Australia, Papua New Guinea, Zimbabwe and Bangladesh.
The final is on Saturday (February 3) in Tauranga. Australia have already booked a spot in the title round as they defeated Afghanistan today (January 29) by six wickets.