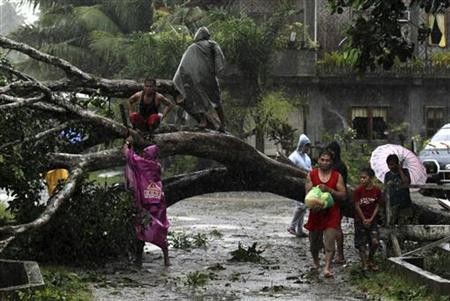 Around 230 people are feared to have perished in the flash floods brought by Typhoon Bopha - the strongest tropical storm this year to have struck southern Philippines on Tuesday, Reuters reported.
The death toll was initially reported at around 40, but quickly climbed as strong winds and heavy rains ravaged the islands before heading towards the South China Sea. Those reported missing remain at large. The number of casualties is likely to rise with the ongoing rescue operations.
Local media said that most of the victims were women and children.
Compostela Valley province was the worst affected with 151 people reported to have died near an army outpost, government spokeswoman Fe Maestre told The Associated Press.
The bodies of those victims, who were killed in Compostela Valley, were pulled out from collapsed houses and layers of mud.
The weather bureau on Wednesday said Bopha, with central winds of 120 kph and gusts of up to 150 kph, headed towards the island province of Palawan but caused lesser damage, Reuters reported.
Typhoon Bopha, also known as Pablo, made landfall across the island of Mindanao early Tuesday, forcing nearly 90,000 people to evacuate their homes and seek shelter in emergency centres. Schools and other institutions remained closed and several flights were cancelled on Wednesday. Several affected areas were left without electricity and communication lines were down.
The Philippines islands endure as many as 20 typhoons per year. Among the worst of them all was Typhoon Washi which pummelled the Mindanao island with unrelenting rains and killing 1,500 people in December last year.