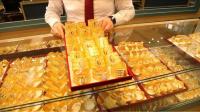 Falling gold prices are likely to find a floor this year as the expected start of the Federal Reserve's rate-raising cycle eliminates a major headwind faced by the market.
"We believe that 2015 could well represent a bottom with a clearer turning point becoming visible in 2016," Metals Focus said in a report, to Reuters.
Prices of the yellow metal have been under pressure for the past two years. Meanwhile, the dollar strengthens on expectations of rate increases by the Federal Reserve.
Fed's chair Janet Yellen signalled last week that the central bank remains on track to raise interest rates later this year despite some softness in the recent economic data.
While western investor interest in gold remains low, selling pressure is likely to ease further from the already much-reduced level of liquidations seen 2014, the consultancy added.
Meanwhile, Asian investment demand for physical gold is expected to recover from last year's slump. Taken together, this points to stable or even improved investment demand for gold this year as compared to 2014, it added.
The company sees metal prices averaging $1,190 an ounce after bottoming out at $1,080 an ounce.
Further, analysts believe gold prices to find support from any escalation in the geopolitical tensions and on-going debt concerns in the eurozone.
"We expect gold prices to move higher over the rest of the year, albeit at a very gradual pace. We expect the extent of quantitative easing (QE) outside the US, geopolitical developments, India's deregulation, consumer demand from China and problems within the euro area will all be supportive for gold," said Standard Chartered in a note.
However, it believes that the Fed will still dominate price developments, at least until the cathartic effect of the first rate hike is felt, the bank said. After the first hike and when attention turns to the likely nature of the cycle (i.e. very gradual indeed), the bank said it hopes that there will be a base for a more rapid rise in gold prices.