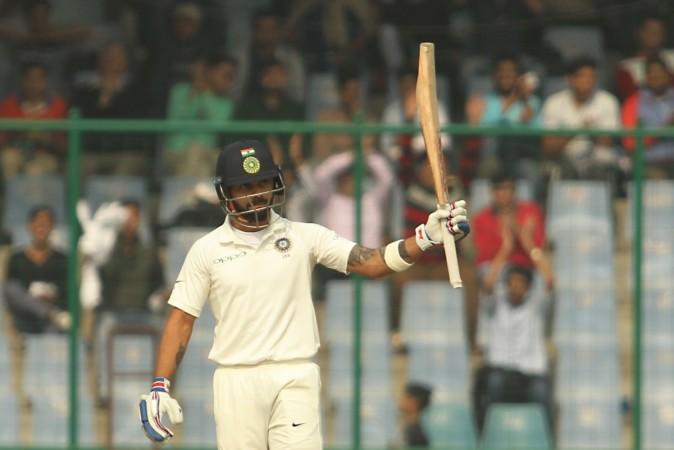 Virat Kohli is in a league of his own, where scoring hundreds have become a daily affair.
The India captain has now achieved an incredible back-to-back double hundred: Kohli completed his sixth double hundred at the Feroz Shah Kotla Stadium in Delhi on Sunday.
With this, Kohli has became the first ever captain to score six double hundreds in Test matches. He beat Brian Lara's record of five double hundreds.
Kohli breaks another record on Day 2
Twitterati went berserk after the Delhi man dominated the Sri Lankan bowling attack in the first innings of the Test match. His innings had an element of class written all over it, where none of the Lankan bowlers could trouble him much.
Kohli had completed his ton on Day 1, when he took the attack to the opposition. He was dealing in boundaries and looked a confident batsman. He middled most of the ball to perfection on Day 2 as well.
His defence looked top class, and he punished loose balls — of which there were aplenty — with utmost ease to the fence.
This innings has witnessed Kohli playing all the shots in the book, including straight drives, square drives, his characteristics flicks and the occasional leg glances.
One of the best things about his double hundreds has been his batting effort, where he has tried to play the ball mostly all along the carpet — the hallmark of a great batsmen.
The India captain is currently batting on 207 runs, and India have already compiled 450-odd runs. If things go according to plan, one would not be surprised if Kohli scores his first triple hundred on Day 2 itself.
Only two Indian cricketers – Virender Sehwag and Karun Nair -- have scored a triple century so far.
Till 2016, Virat Kohli didn't have a single double century. Now he has six. Shows you that great players make a good phase really count.

— Harsha Bhogle (@bhogleharsha) December 3, 2017
Short of words to describe this man. Speechless. Wherever you are, just stand up , admire and salute the genius, that is Virat Kohli. pic.twitter.com/Z041urCnYV

— Mohammad Kaif (@MohammadKaif) December 3, 2017
#KingKohli is literally toying with all of his opponents. 2017 is year of @imVkohli

— Sharad (@Sasha_1604) December 3, 2017
Indian's born in 90's era enjoyed God of Cricket @sachin_rt now we are enjoying mr @imVkohli era! The Run machine. #viratkohli #kohli

— Shivam chawla (@Shivamchawla05) December 3, 2017
2 double centuries in week @imVkohli

— Ranvir (@Ranvirsinghveer) December 3, 2017
Virat Kohli, the man we all want us 2 be !!!
Even Sachin and Bradman would be proud!!!

— Amay Yeravdekar (@YeravdekarAmay) December 3, 2017