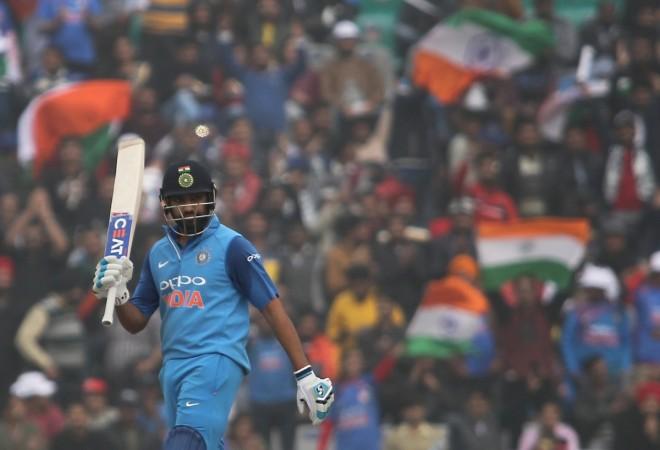 Rohit Sharma looked poor in the first match of the ODI series against Sri Lanka in Dharamsala, but the skipper more than made up for it with a wonderful double hundred on Wednesday in Mohali. He remained unbeaten on 208 runs, which helped him become the first batsman to ever score three double hundreds.
Social media users praised the batsman for his ridiculous batting. It was an innings, which saw Rohit play some cautious cricket early on and opened up as the match progressed.
Right from the second ball of the innings, Rohit looked determined. He played a crisp square cut, which might have gone straight to the fielder, but that shot might have given him good confidence to go for a big score.
Here is the complete scorecard
There was some grass on the pitch, and a bit of swing early on, so Rohit played the ball on merit. He respected the conditions, but after he got a good measure of the wicket and with the ball losing its shine, Rohit looked to be in full control.
In fact, Rohit should be thankful to his opening partner Shikhar Dhawan, who took much pressure away from him. The left-hander began to play his shots and Rohit also joined in the act by hitting the loose balls towards the boundary.
After the dismissal of Shikhar, it was Rohit's turn to take on the Sri Lankan bowlers. He looked in top class form as he timed the ball to perfection and found the gaps to score quick runs. He completed his ton in the 40th over.
The Mumbai man went into overdrive after completing his ton. There was no stopping India captain as Rohit began to open up his shoulders, dealing in sixes only. The Sri Lanka bowlers did not have any solution to Rohit's big hits as they began to bowl loose deliveries one after the other.
In the 44th over of the innings, Rohit hit Lakmal for four sixes, which set the tone for India captain to complete his third double hundred. He completed it in the final over of the match, and it was an innings divided into two phase.
Rohit scored his first 100 in 115 balls while the second came in an astonishing 36 balls, which explains his dominance in the final few overs of the innings.
Does not need any of the modern innovative shots to get these double hundreds , Rohit Sharma. Devastating yet so classical. ?????#INDvSL #RohitSharma

— Sanjay Manjrekar (@sanjaymanjrekar) December 13, 2017
The two things I saw when Ro-Hit Sharma touched the 200 mark was the two most extreme form of happiness:

His excitement with his jaw open, shouting out loud.

His wife feeling bliss with the tears #RohitSharma #Rohit200

— The Lame Loader (@Bk_sarkhedi) December 13, 2017
Double hundreds in ODIs:
264 Rohit Sharma
237*M Guptill
219 V Sehwag
215 C Gayle
209 Rohit Sharma
201 Rohit Sharma *
200 S Tendulkar#INDvSL

— #PSL2018 #PSL3 Hussain Ahmad (@QHACricket) December 13, 2017
#RohitSharma becomes first man to hit double century on his anniversary. Wat a innings man cheers. Happy anniversary and congrats for 3rd double ton. #INDvSL #INDvsSL

— Avinash(TonyMontana) (@avinashk1506) December 13, 2017
That's absolute carnage. Can't even imagine of 200 when someone gets his hundred in 40th over. You are just phenomenal. Kudos Rohit Sharma. #INDvsSL #INDvSL

— Shubham Kumar Hota (@IamShubhamHota) December 13, 2017