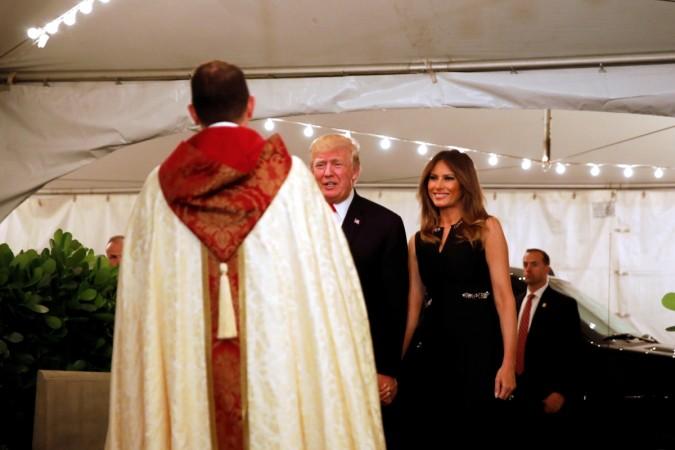 While United States president Donald Trump might be a Wharton graduate, it looks like he has not heard of the age-old saying, "where there's a will, there's a way." On Thursday, April 26, Trump admitted that he had been "too busy" to buy a gift for his wife Melania on her 48th birthday.
When asked in a telephonic interview with Fox and Friends, the POTUS said "Well, I better not get into that 'cause I may get in trouble. Maybe I didn't get her so much."
The president claimed that he called Fox News' talk show to wish the first lady, Melania, on her birthday. "I picked a very, very special day because it's Melania's birthday so I said, let's do it on Melania's birthday. So happy birthday to Melania."
When asked what he had bought for his wife on her birthday, he claimed that he had been "very busy to be running out looking for presents." He, however, added that he got her a beautiful card and some beautiful flowers.
It was not just the president who had a busy schedule. Even the first lady was busy planning the state dinner for French president Emmanuel Macron. She had also recently hosted Japanese prime minister Shinzo Abe and his wife at Trump's estate in Florida. She had also attended former first lady Barbara Bush's funeral, Associated Press reported. The office of the FLOTUS added that she had spent her birthday with the Trump family.
When Trump admitted that he was too busy to give Melania a birthday gift, Twitter came up with its own hilarious memes. Here are a few of them.
An amazing train wreck. Please do this every morning.

— O (@elOjoGrande) April 26, 2018
You embarrassed me and I don't even live in your country.

— Ryan de Jong (@RyandeJong9) April 27, 2018
He got her the presence of being in the company of a stable genius.

— NJ Citizen (@NJCitizen05) April 27, 2018
He was out getting new golf clubs for himself for her birthday.

— Sal (@BrooklyneseS) April 26, 2018
Fox and Friends...? That's a children's cartoon show, right?

— Jonathan Reid (@JonathanBFL) April 27, 2018