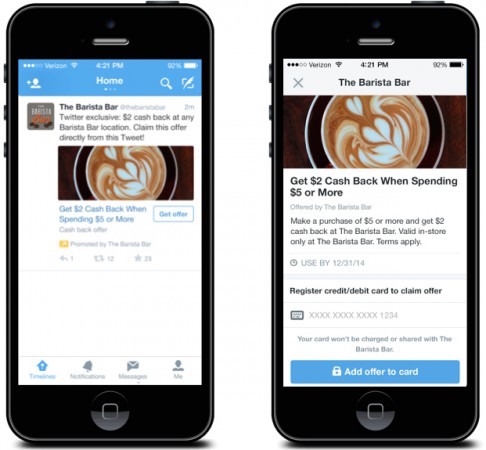 Twitter, the social media website, is trying to sweeten shopping deals for its American users. The micro-blogging site announced "Twitter Offers" – a new tool where customers can avail cash-back offers just by a simple touch.
"Twitter Offers" is in the testing phase where can retailers post deals for customers to claim and add to their credit or debit cards for redemption later.
"The appeal is to reach the millions of people expressing a demand in real time, and give them a way to claim an offer instead of just buy right now," Nathan Hubbard, head of Commerce at Twitter told CNBC.
"Starting today (in the U.S. only), we're beginning to test a new way for advertisers to connect with consumers on Twitter and convert them to loyal customers in their stores, on their websites and in their apps. This feature, Twitter Offers, enables advertisers to create card-linked promotions and share them directly with Twitter users," Tarun Jain, Group product manager wrote in an official blog.
How it Works
When users see a Twitter Offer on their homepage, they can directly add it to their credit or debit card. The user can later redeem the offer in stores later.
Twitter Offers are just like cash-back coupons, where in on a purchase of a certain amount or above, you get a certain sum in cash back. The tool isn't just going to help consumers lap up better deals but will also help advertising companies to measure their return on investment through ad campaigns directly.
Twitter also said that customers' card information will be stored securely and the user will not have to enter the details of the card every single time he/she claims an offer.
Customers will also be able to access a "handful of brands" this holiday season through "Twitter Offers." Hubbard told the New York Times that if the tool goes down well with advertisers and customers, they would probably deliver ads to customers considering their location.
Twitter's Commerce Products
This is Twitter's second commerce product in the last few months. In September, the micro-blogging site announced the introduction of the "buy" button, which was also an experimental project accessible only to some American users.
According to TechCrunch, users can directly purchase products from tweets just by hitting the "buy" button, entering card details and confirming shipment information. It's like buying on Amazon but only from a tweet.
Hubbard also told the New York Times that the tool was aimed at expanding its user base. Considering that twitter has been struggling with user-retention, e-commerce-like features could help the site boost its presence.