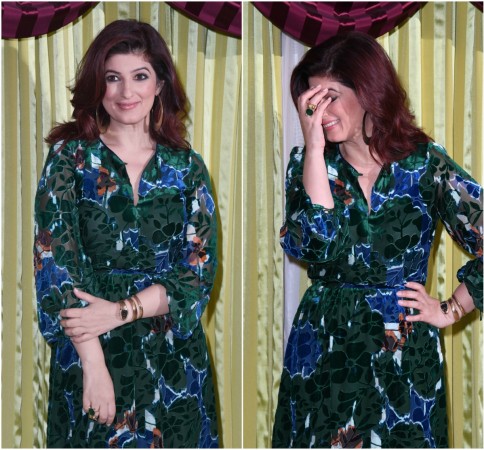 Twinkle Khanna's simple query has become one hilarious dig at marriage. The PadMan producer took to Twitter and said: "Me: Isn't a Gordian knot when you are stuck between a rock and a hard place? My sister: No! That's just called marriage... [sic.]"
Me: Isn't a Gordian knot when you are stuck between a rock and a hard place?
My sister: No! That's just called marriage..

— Twinkle Khanna (@mrsfunnybones) February 17, 2018
Now, that's really funny Mrs Khiladi Kumar. For those who don't know, The Gordian Knot is a legend of Phrygian Gordium associated with Alexander the Great. It is often used as a metaphor for an intractable problem (disentangling an "impossible" knot) solved easily by finding a loophole or thinking creatively ("cutting the Gordian knot"):
Twinkle Khanna who is on cloud nine right now after the success of her debut production PadMan, now wants to work for reproductive rights of women.
Twinkle, who attended the success celebration of her film organised by Unicef (United Nations Children's Fund) and Bill & Melinda Gates Foundation, discussed the taboo around menstrual hygiene on February 14 in Mumbai.
Twinkle said: "I don't know about a movie but next I would like to work for the reproductive rights and that would be my next venture. I am interested in stories which have layers to it and which have larger ramification. It's great for somebody to write a story which is about one person's life but for me, there has to be layers and the story has to have message and that's what I believe in."
Talking about PadMan's box-office collection, trade analyst Taran Adarsh tweeted: "#PadMan fared well in Week 1... Got the advantage of partial holidays on weekdays... Will be interesting to see how it sustains in Week 2... Fri 10.26 cr, Sat 13.68 cr, Sun 16.11 cr, Mon 5.87 cr, Tue 6.12 cr, Wed 7.05 cr, Thu 3.78 cr. Total: ₹ 62.87 cr. India biz."
Reacting to the film's success, Twinkle said at the UNICEF panel: "No. I did not expect this. We were worried because it was a risk. We did not know whether people would take it and at this point of time, both, the commercial and the critical success has been overwhelming. Who would have thought, even five years back, that Balki (Director R. Balki) and Akshay (Kumar) would make people watch a movie on sanitary pads."
"But we did it and we are really happy right now. PadMan is more than movie. I am hoping its part of a movement where women are no longer held back or embarrassed by their biology. I think commercials also should stop showing blue liquids on sanitary pads instead of red," she added.