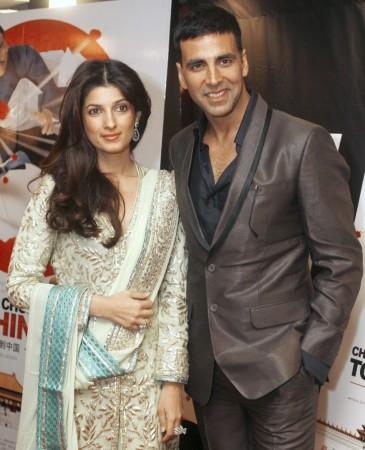 The controversy surrounding the All India Bakchod (AIB) roast show that featured Karan Johar, Ranveer Singh and Arjun Kapoor, doesn't seem to die down. Several police complaints have been filed against the team of AIB and some of the Bollywood celebs who were present at the show, claiming that the stars have indulged in obscene behaviour in a public place.
While many Bollywood celebs chose to remain mum regarding the issue, actress-turned-interior designer Twinkle Khanna and wife of actor Akshay Kumar, has stood up in support of the show. Khanna, who is also a columnist has written a very honest column in The Times of India, pointing out that there are bunch of important issues that need attention rather than raging over the roast.
Here are some of the ironical yet reasonable points listed out by Khanna in her column:
1. Khanna in her blog pointed out how people aren't bothered about the massive amount of money being spent on statues instead of using it on educating children.
"We have passed a proposal for building a 182-metre-tall Statue of Unity project that will cost Rs 2,979 crore, and are now trying to construct yet another statue in the Arabian Sea which is budgeted at around Rs 1,900 crore even though only 10% of our children have access to education beyond higher secondary schooling. Instead of spending money on education."
2. She also pointed out how live shows like "Arnab Goswami's The NewsHour" offends her. "When he invites people on his show and then doesn't let them speak. I saw an episode where he is asking the education minister a question and then screaming over her answers," she noted.
3. Another one was about skin complexion, which was the butt of jokes in the AIB roast. Khanna questioned that if we can get offended over jokes on dark skinned people, why not the same with fair skined people?
"Would we be as offended if jokes were made about having fair skin like, 'You are so fair that you were thrown out of the Nirma washing powder commercial for being whiter than the washed shirt.'?"
4. Khanna argues that instead the nation should protest against social evils like gang rape or cut in the health care budget. "Like gangs of men still killing and raping women as they did again in Rohtak; that we spend $38.35 billion on warfare but are slashing our health care budget by 20% despite being a country whose public spending on health is already among the lowest in the world" the actress further added.
5. The actress further states that while a member of a political party can abuse a certain section of the Indian population in a public platform and escape from a police complaint, the same is not the case with a standup comedian.
"A bunch of us have been called 'haramzade' on a political platform from a member of the party that governs us and not from a standup comedian but no FIR is filed against the politician but is filed against the AIB comedians instead," Khanna mentioned in her blog.