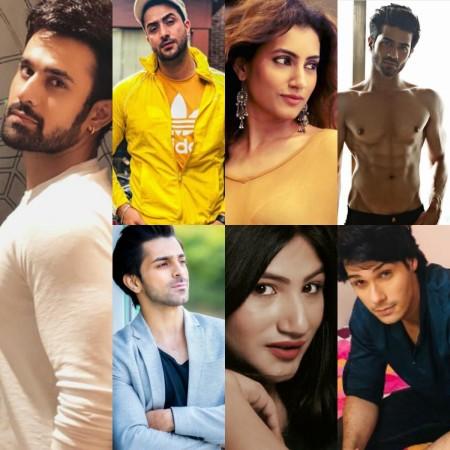 Every year, Mother's day is celebrated on second Sunday of May. Some of the television celebrities also recalled the times from their lives when they were about to give up but their mothers didn't let them.
Adnan Khan: There is no specific time when she made me keep going on when I was low, but the fact remains that I have seen her struggling so much in life. Even though she complains, she breaks, cries after all of that she keeps going on and that is one major quality I have adopted from her. My mother is incredible when it comes to going up against all the odds. And that motivates me, like if she can do why can't I! I have tried to keep this theory as a part of my life and I never give up.
Pearl V Puri: My mother has always been my emotional barometer and my guidance. I was lucky enough to get to have one woman who truly helped me through everything. She inspires me to give up on nothing and motivates me to keep moving on and working hard.
Aly Goni: A mother's love for her child is like nothing else in the world. It knows no law, no pity, it dates, all things and crushes down remorselessly all that stands in its path.
Nikhil Khurana: My mother has helped me to overcome the bad phase of my life. Once I decided to appear for my high secondary examination by cheating but it could not happen and luckily somehow I passed. I remember every time when I prepared, I used to achieve more than 90. My mom punished me, blamed me and made me regret the thought of being a cheater and once she found the guilt in my eyes and from thereon she never blamed me. She would only comfort me and made me feel that its fine to make mistakes and learn out of it. She told me that whatever may the conclusion be, she will stand by me, hand in hand.
Additi Gupta: In the end, Mothers are always right. No one else tells the truth. I believe clarity and focus don't always come from God or inspirational quotes. Usually, it takes your mother to slap the reality back into you. Her love and care allow you to never give up.
Mahika Sharma: My mother taught me never to give up and welcome the challenges. She taught me to be a winner, not a loser. My mother also once told me, 'when you have to make a decision, imagine the person you want to become someday. Ask yourself, what would that person do?' And that's how things and decision making becomes easy for me in my life.
Gaurav Wadhwa: There was a day in the school when I was selected for the dance performance but I was not leading as it was a group performance and I was dancing in the sixth row. During the rehearsal days, I made my mind that I'm not going to do this because I was not a lead dancer in that performance. I told my mother about it and she replied me back that every child is lead for their mother and I have to do that just because of her and she also told me that she will be only watching me in the performance. On that day I realised that no matter what you are doing in life just make your parents happy and proud. I will be thankful to my mom for this lesson.
(Disclaimer: Content provided by PR)