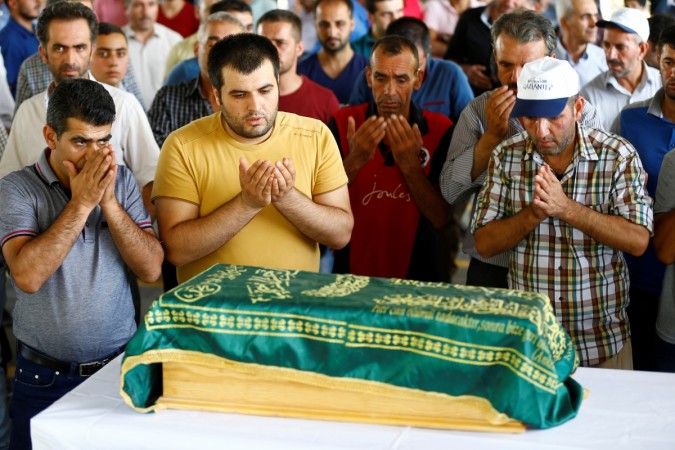 Turkish President Recep Tayyip Erdogan said on Sunday that the Islamic State group suicide bomber who attacked the wedding party in Gaziantep killing over 50 people and wounding several others was a child aged between 12 and 14 years.
Erdogan added that it was still unclear whether the teenager detonated the vest himself or it was detonated by someone else using a remote.
The president had previously said that "Daesh is the likely perpetrator of the attack." Daesh is the Arabic name for Isis.
Over 50 people were killed and several others wounded in a suicide attack at a wedding celebration in Turkey's province of Gaziantep, located near the border with Syria, on Saturday. A three-month old baby was also among those dead, according to witnesses.
Erdogan confirmed, while speaking live on NTV broadcaster, that 51 people had died and 69 were injured, 17 of whom were critically injured.
"Our country and our nation have again only one message to those who attack us: You will not succeed!" the president said, adding that there was "absolutely no difference" between the Isis, Kurdish rebels and the movement behind U.S.-based cleric Fethullah Gulen and that they were terrorists.
Meanwhile, United Nations Secretary General Ban Ki-moon condemned the attack in Gaziantep and called for the culprits to be brought to justice.
"The secretary-general condemns yesterday's terrorist attack on a wedding party in the city of Gaziantep, Turkey," Ban's office said in a statement. "This act, reportedly carried out by a suicide bomber, killed at least 50 people and wounded dozens of others... The Secretary-General expresses his deepest sympathy and condolences to the families of the victims and to the government and people of Turkey. He wishes a speedy recovery to those injured," Ban's office said in a statement.
"The Secretary-General hopes that the perpetrators of this act will be quickly identified and brought to justice... He again stresses the need to intensify regional and international efforts to prevent and combat terrorism and violent extremism," the statement added.