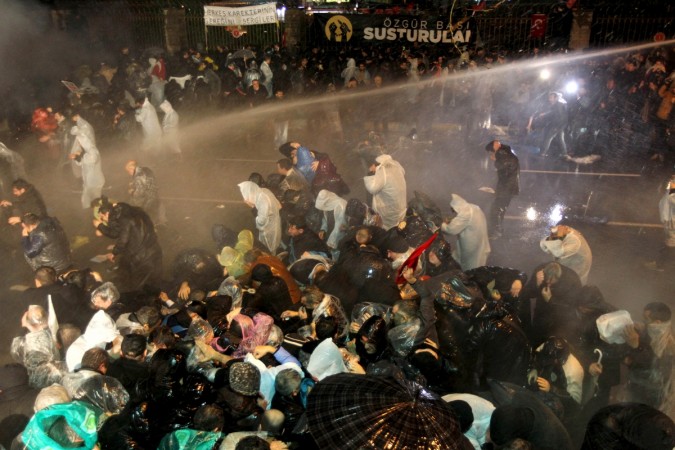 Employees of Turkish newspaper Zaman in Istanbul returned Saturday morning to their office amid heavy security. A day earlier, the riot police had used water cannons and fired tear gas at protesters outside the office after seizing the popular opposition newspaper, even as the U.S. government called the Turkish government's move to take control of the media house "troubling."
The protesters had gathered at the office after an Istanbul court ordered that the Group be placed under the trusteeship of the state. The police entered the office, which had been locked by employees from inside and threw them out, reports the BBC.
The Turkish government had appointed trustees to monitor the Feza Media Group publications comprising the Zaman, Today's Zaman and the Cihan News Agency, linked to Fethullah Gulen, a Muslim cleric in exile and once an ally of the country's president Recep Taryip Erdogan but now his political rival.
The protesters had chanted slogans Friday saying, "Free press cannot be silenced" and were seen holding banners that read "do not touch my newspaper", reports The New York Times.
"We see this as the latest in a series of troubling judicial and law enforcement actions taken by the Turkish government targeting media outlets and others critical of it," Reuters quoted U.S. State Department spokesman John Kirby as saying.
Meanwhile, international press freedom organisations have condemned the crackdown on the Zaman Group and have sought reversal of the court order.
Index on Censorship, which promotes press freedom and defends the right to freedom of speech, launched an online petition for the reversal of the order against the largest circulated Turkish newspaper.
The Committee to Protect Journalists also came out with a statement criticising the decision.
"Rather than taking aggressive action to undermine the newspapers, Turkish authorities should be fulfilling their constitutional obligation to defend press freedom and rights of the journalists," said Joel Simon, executive director of the Committee to Protect Journalists in a statement.