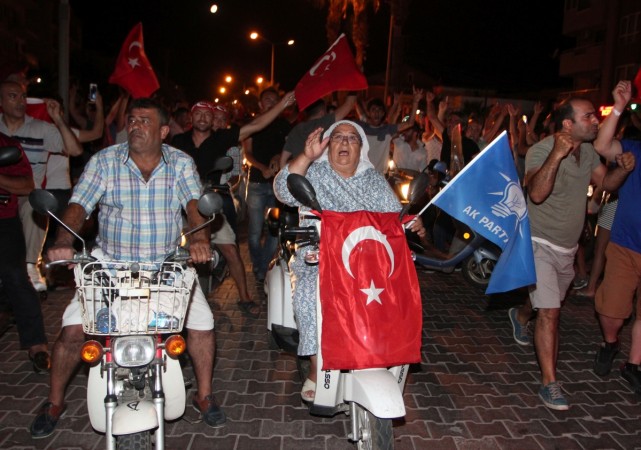 Around 754 persons have been reportedly arrested as an attempted coup in Turkey failed on Saturday. Even as soldiers, who were part of the coup, surrendered on Bosphorous Bridge in Istanbul, President Recep Tayyip Erdogan denounced the coup and said the military was in control.
As events continue to unfold in Turkey on the heels of Nice attack in France, world leaders took to Twitter once again urging Turkey to support the democratically elected government. At least 60 people have been reportedly killed and around 1,000 people were hospitalised on Saturday, according to the latest updates.
Justin Trudeau, Prime Minister of Canada, deplored any threat to democratic institutions in Turkey.
"On behalf of all Canadians, I would like to express our concern about this evening's events in Turkey. We call for restraint by all parties. Canada supports the preservation of Turkish democracy, and condemns any attempt to subvert Turkey's democratic institutions by force of arms," he said.
Hillary Clinton, Democratic candidate in the U.S. Presidential election, called for respect to "laws, institutions, basic human rights and freedoms."
Hillary on the situation in #Turkey. pic.twitter.com/WwpeKFXwX1

— Hillary Clinton (@HillaryClinton) July 16, 2016
John Kerry, U.S. Secretary of State, affirmed that U.S. fully supported democratically elected government and called for cooperation from all parties to restore safety of civilians and personnel.
Statement by Secretary of State @JohnKerry on the situation in #Turkey pic.twitter.com/c32Pb2xTgG

— Department of State (@StateDept) July 15, 2016
A joint statement from the European Council, the European Commission and the European Union High Commission on behalf of its members noted Turkey as a key ally and called for immediate restoration of "constitutional order."
Our joint statement with @JunckerEU and @eucopresident on #Turkey pic.twitter.com/a4WdAw7gOg

— Federica Mogherini (@FedericaMog) July 16, 2016
Neighbour Iran's Foreign Minister Javad Zarif lauded Turkey's citizens for defending the elected government.
Turkish people's brave defense of democracy & their elected government proves that coups have no place in our region and are doomed to fail. — Javad Zarif (@JZarif) July 16, 2016
Sushma Swaraj, External Affairs Minister, India, urged people to uphold the "mandate of the ballot" and to avoid bloodshed.
India calls upon all sides to support democracy, mandate of the ballot and avoid bloodshed.#Turkey

— Sushma Swaraj (@SushmaSwaraj) July 16, 2016
Vikas Swarup, Ministry of External Affair's official spokesperson, provided guidance to Indian nationals in Turkey.
We hv been closely following the dev's in #Turkey India calls upon all sides 2 support democracy & mandate of the ballot, & avoid bloodshed.

— Vikas Swarup (@MEAIndia) July 16, 2016
Paul Boghossian, Silver Professor of Philosophy at NYU says.
The autocratic suppression of rights and freedom of speech by @RT_Erdogan in #Turkey was intolerable. Maybe now he will understand that. — Paul Boghossian (@paulboghossian) July 16, 2016
Among Twitter users, some expressed shock while others emphasised on the power of Turkish people to support democracy.
"Shocked and disturbed to hear of the events that have unfolded in #Turkey Let's pray that peace and safety reigns once again in #Turkey"
Reactions from Turkish people, opposition, police and military heads are exemplary. Long live the republic. #Turkey#FailedCoup
Army coup denied by the turkish people this is what we called people power #Turkey#turkeycoup#IslamicState