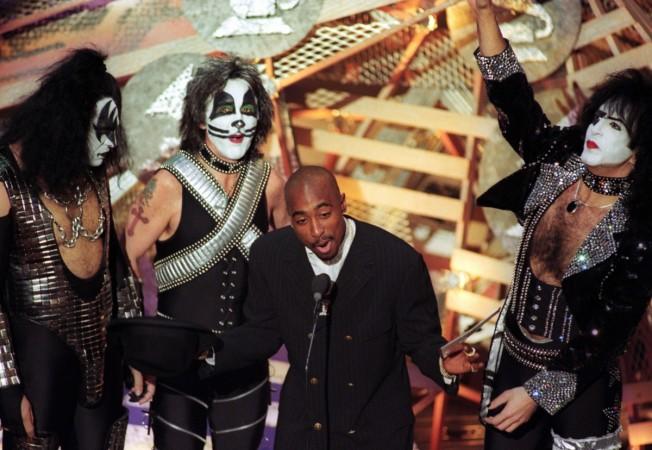 American rapper Tupac Shakur was shot dead in 1996 in Las Vegas, but fans continue to believe that the rapper is alive. Recently, a fan shared a YouTube video that claimed to have a selfie of Shakur, which was taken recently.
The video titled "Tupac is alive New Proof 2016," which was posted by the user Tupac Legacy, shows a man with close resemblance to the rapper. The man is also seen with a red bandana (scarf) on his head just like Shakur.
"Did you saw (sic) this - it is Tupac guys 100 per cent same eyebrows and lips," the video showing the new photo of the rapper claims.
The video uploader further claimed that the photo was taken in 2015 with a phone that was made in 2011 and the blue jacket, which the man can be seen warning in the photo, is a 2014 edition.
The video, which received more than 1,929,164 views, has garnered more than 2.5 K comments. While some people believed the video and commented that the rapper is alive, several others said that Shakur is dead.
"maybe he is both dead and alive, travelling between realms. This is the confusion. Just accept it... he is both alive and dead. Watch the walking dead and you will understand further," a user wrote.

"I think we really WANT Tupac to be Alive. I'm still not convinced...however, this was a lil eerie. Keep tryn, Boo. If anything, I can tell you really care! Many blessings! God bless TUPAC!!! My FAVE Rapper, Poet, Artist, Activist, Actor," another user said.

"i think if i was tupac and faked my own death i would then go round wearing a red bandanna tied in the exact same style i was famed for. yeah, if i wanted it all kept hushed up that is exactly what I AM SURE I WOULD DO!" a user commented.

"Anybody who claims this guy is still alive is a fucking idiot. You can't hide in todays electronic day and age........ stop drinking the conspiracy kool-aid you half-wits. Secondly, he's not god damn Elvis....not even close to his level of infamy. no matter how much you try to make him the Elvis of rap, it'll never happen. Not good enough. Rap is garbage degenerate wannabe thug life music anyways," another user commented.
Shakur, who is known by his stage name 2Pac, was shot four times in Las Vegas on Sep. 7, 1996, and died six days later. The rapper died 20 years ago, but conspiracy theories about Shakur's death keep doing the rounds.
In 2014, there were reports that the rapper was spotted with several Hollywood celebrities, including Beyonce Knowles. But the reports turned out to a hoax, after several websites claimed that the rapper is dead.
Watch the video below: