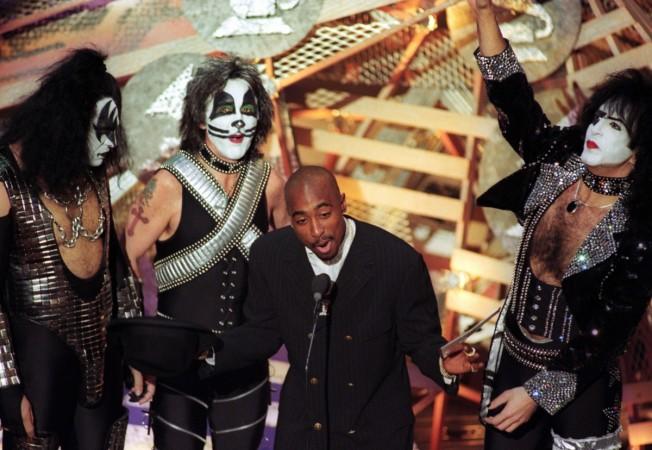 Tupac Shakur died 18 years ago, but there are some people who believe that the rapper is still alive. On his 18th death anniversary "Tupac Shakur is alive" hoax news resurfaced online.
The rapper, who is also known by his stage name 2Pac, died on 13 September 1996. He was shot four times on 7 September at the intersection of Flamingo Road and Koval Lane in Las Vegas.
But several conspiracy theories have come up in years, claiming that Shakur never really died. In May, Death Row Records Founder, Suge Knight, said the rapper is alive, which added fuel to the fire.
After that, people commented on Twitter saying that the rapper will come back on 13 September, the day he died.
Last month, a satirical website, Huzler, reported on the subject saying that 2Pac is alive and was spotted with Beyonce. The website also posted a photo of the rapper and Beyonce, which people on the social media believed to be true.
The article re-surfaced on Twitter on his death anniversary. While some fans were remembering the rapper, some posted videos saying that he has come out of hiding on Saturday.
Here are few tweets by users who believe that he has come back:
he's back, now watch this video! it connects all the dots #2pacIsAlive https://t.co/g6fn8nBakN pic.twitter.com/q29WZl5xA8

— Tha Don's Return (@tha_return) September 14, 2014
"I dont know what to believe anymore. Today in 13 september 2014 Tupac Shakur will return."
"tupac shakur will return tomorrow"
"Tupac Shakur will return from the dead today #Makaveli."
"Tupac Shakur Found Alive in Las Vegas and Arrested by Police!"
"Rapper Tupac Shakur is Alive! He finally comes out after 18 Years in Hiding now 43 Years"
"so todays the apparent 18 year anniversary of tupac's death. Does anyone still believe he's alive?"
"@TupacShakur stop playing and come alive"
"I have just had it confirmed by a woman on the 003 bus that Tupac Shakur is alive and was in Vancouver this past weekend."