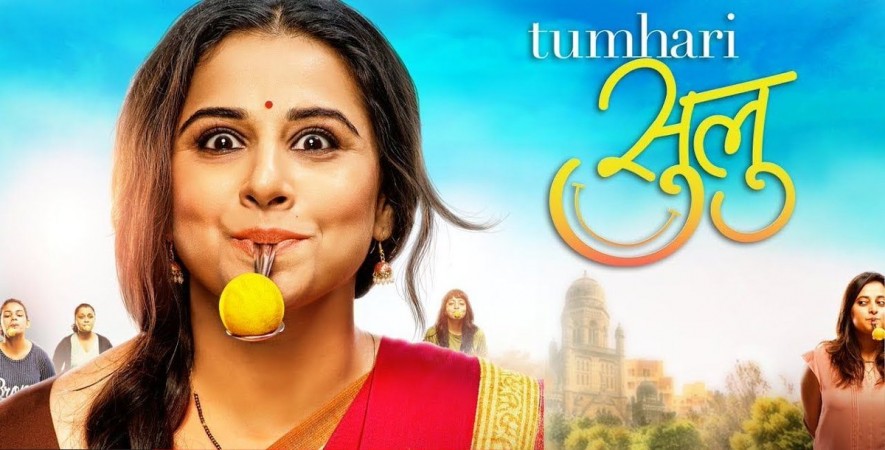 Rating – 4.5
Cast – Vidya Balan, Neha Dhupia, Manav Kaul, Malishka Mendosa
Director – Suresh Triveni
Genre – Comedy Drama
Storyline
Debutante director Suresh Triveni brings us a slice of life film starring Vidya Balan, who's the real hero.
Tumhari Sulu revolves around Vidya Balan's character Sulochana. Sulochana aka Sulu is a middle-class married woman in a Mumbai suburban. She is a happy-go-lucky person and her husband is in a mundane 12-year old job.
Sulu, who is a regular radio listener, one day takes part in a contest on the radio and wins a pressure cooker. But in an unexpected turn of events, she lands a job of an RJ (radio jockey) for a late night show.
This 'saree wali bhabhi' will win your heart as Tumhari Sulu's sexy voice is the USP of this film. She talks to the callers in a sexy voice, which somehow makes the night show popular. Manav Kaul plays her husband who is embarrassed with her job and not proud while her other family members are conservative
This fresh and simple story has some realistic conversations that don't disappoint. One can relate to the situations as it's a story of dreams, dedication, ambition, struggle and emotions of a middle-class woman.
Performances
Vidya Balan's laugh will make you want to listen to her more. Right from her 'andaaz' of saying 'Hello' to dealing with her job and household chores – she will leave you in awe of her performance.
Her chemistry with her husband Manav Kaul makes them one of the best fresh pair of this year.
Neha Dhupia plays a fabulous boss. For Tumhari Sulu, Vidya took some lessons from RJ Malishka, who also stars in the film. Sulu's son plays the perfect supporting cast.
Positives
The background music and songs totally blend in with the situations. Some tunes are so catchy that you would like to leave your seat and dance to the rhythm.
Neha Dhupia, Malishka Mendosa and Vijay Maurya — who play an integral part of the story — gave an outstanding performance. Shot in Mumbai, Sulu's house and locality perfectly showcased the middle-class family life.
The usual couple banter, funny dialogues and the small things from the daily life of two people in a relationship have been presented well. The tagline 'Main kar sakti hai' (I can do it) has been executed well. Also, there's a social message embedded in the narrative.
Negatives
Towards the end, the movie is rushed. The director could have shown more. However, the movie left a positive impact and left the audience wanting more of Vidya Balan.
Verdict
Overall, Vidya Balan has once again won hearts with her performance in Tumhari Sulu, and Manav Kaul and Neha Dhupia played their parts perfectly. Go for it. You won't regret it.