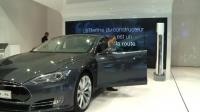 Cheap crude oil prices may dampen the prospects of electric cars across the global markets as their adoption becomes less attractive in the wake of 50 percent drop in oil prices since June last year.
Tesla Motors, a US-based plug-in vehicle manufacturer, is already feeling the heat of falling oil prices, with its shares hitting a 52-week low this month on the back of growing investors' concerns over the outlook for eco-friendly vehicles.
Recent reports say that consumers in the major automobile markets, China and the US, are already abandoning their plans to buy expensive electric vehicles as oil has become cheaper.
Tesla, which is struggling with tepid demand for its vehicles in China, is reported to have reduced its workforce in the country, and a slump in oil prices could become another major headwind for the company to expand in the world's largest car market.
However, on the bright side, automobile companies which manufacture convention vehicles are likely to see a boost in sales from tumbling oil prices, as driving of oil-driven vehicles also become economical compared to fuel-efficiency in electric cars.
IHS Automotive forecasts falling oil prices could support 1.5 percent of global auto sales through 2019.
"There is an upside opportunity with lower oil prices," said Mark Fulthorpe, director of light-vehicle forecasts at IHS, to Automotive News.
The sudden plunge of crude prices will bolster consumer confidence most in markets with low fuel taxes and less burdensome regulation, IHS said.
The consultancy also said that cheaper oil could reduce the demand alternative-drivetrain vehicles such as hybrids and electric cars.
For example, a customer who pays $20,000 extra for an electric vehilce has to wait 10.1 years to recoup that amount when gasoline is $4 a gallon, but 27 years when it falls to $2 a gallon, IHS said.
Experts say that prolonged decline in oil prices could further bring down the adoption rate of environment-friendly vehicles globally. The US President Barack Obama targets to put 1 million electric vehicles on the road by 2015, compared to a current figure of around 255,000 vehicles.
Crude oil prices struggle to climb higher as oversupply issues continue to hit the market. Oil prices are expected to come under further pressure once Iran starts exporting the commodity.