One cannot deny that the United States President-elect Donald Trump's campaign slogan 'Make America Great Again' was a huge hit among many and it certainly got him a presidential seat. Looks like he is now attempting to make Christmas "great again" by selling his 'Trump Make America Great Again Red Cap Collectible Ornament'. However, more than the ornament, it's the hillarious reviews of the product that's making the news.
Anti-Trump reviewers have taken the Internet by storm by posting funny reviews about the Christmas ornament related to the billionaire Donald Trump. The advertisement of the product read, "Get in the Christmas spirit with your very own Make America Great Again Red Cap Collectible Ornament. Made of brass and finished in 24 karat gold, this ornament is sure to make any tree stand out."
Reports state that Trump's campaign had announced the availability of the product on Wednesday to Trump supporters through email saying Trump "makes a point of proudly saying 'Merry Christmas' every chance he gets."
Priced at $230 on Amazon, the product has received idiosyncratic reviews which will leave you in splits.
"Despite ordering a more reasonable ornament, this one arrived. It. Is. Yuge. It's absolutely yuge. It's the biggest ornament. Yuge. I hung it on my tree, but it is so yuge that it has totally unbalanced my whole tree. No matter where I hang it, the tree leans waaaaaay over to the far right," a user wrote in the 'Customer Reviews' section of the product.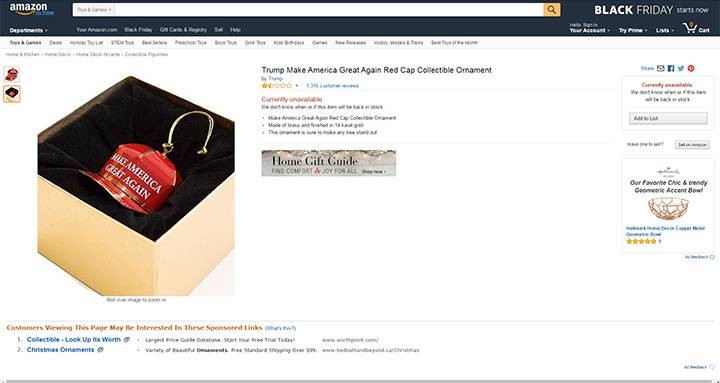 While another user took a dig at Trump and the rising alt-right and wrote, "It called Mary a nasty woman, told Joseph to go back where he came from, built a wall around the manger, and then when you press it it sings "I'm Dreaming Of A Totally White Christmas."
"There was a blue ornament, it was smarter than this one, had a lifetime of experience, supported trees of all colors and beliefs, and (get this) was loved by two million more people than this ornament but somehow this ornament is the one on Amazon."
"The angel on top of my tree just hired a lawyer," another user wrote.