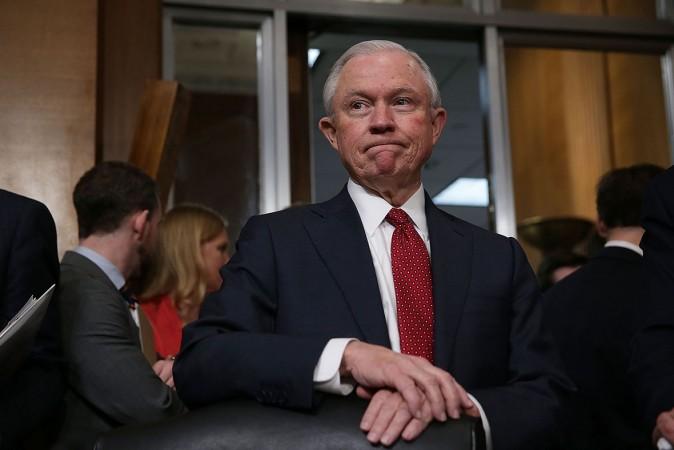 United States President Donald Trump's Attorney General Jeff Sessions had spoken twice with the Russian ambassador to the US during the 2016 presidential campaign.
Justice Department officials said Sessions had met the Russian Ambassador Sergey Kislyak once in September 2016, when the US intelligence officials were investigating the Kremlin's interference in the presidential elections. They had also met in July the same year, according to the Washington Post.
Trump reverses Obama's law: Mentally ill people can now buy guns in United States
Trump's former National Security Adviser Michael Flynn was removed from his position last month after reports about his communications with the Russian ambassador surfaced.
Sessions' spokesperson confirmed that the meetings between the attorney general and the Russian ambassador had taken place. However, she also provided a statement from Sessions stating that the meetings were not related to the 2016 election campaign.
"I never met with any Russian officials to discuss issues of the campaign. I have no idea what this allegation is about. It is false," Sessions said in the statement.
Sessions had not disclosed the conversations between him and Kislyak when he was asked under oath about any possible contacts between Trump's campaign and the Kremlin, during his Senate confirmation hearing in early 2017.
The Democratic leader in the House of Representatives, Nancy Pelosi, has asked for Sessions' resignation for lying under oath at the Senate.
"After lying under oath to Congress about his own communications with the Russians, the attorney general must resign," Pelosi said. "Sessions is not fit to serve as the top law enforcement officer of our country and must resign. There must be an independent, bipartisan, outside commission to investigate the Trump political, personal and financial connections to the Russians," she added.
The White House however rejected the reports as an attempt to undermine Trump's speech at the US Capitol.
"This is the latest attack against the Trump Administration by partisan Democrats," a senior administration official said, according to CNN.
During Sessions' confirmation hearing in January, the panel's top Democrat, Senator Patrick Leahy, had raised questions about Russian connection of several of Trump's nominee in a written questionnaire.
"Several of the president-elect's nominees or senior advisers have Russian ties," Leahy wrote, before asking Sessions point-blank: "Have you been in contact with anyone connected to any part of the Russian government about the 2016 election, either before or after election day?" according to the Guardian.
Sessions had responded with a "No" to the question.