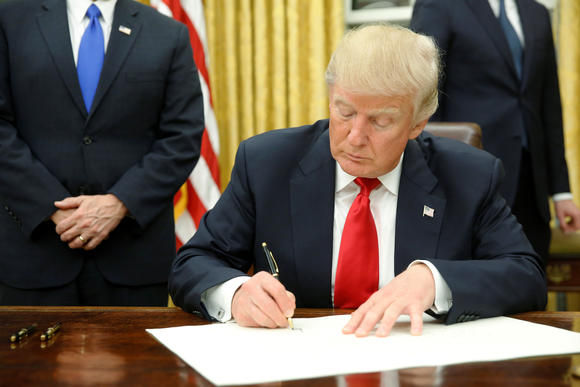 United States President Donald Trump on Friday signed executive orders to suspend refugee arrivals from at least seven Muslim countries and to impose stricter new controls on travellers from these nations.
Trump, during his presidential campaign, had declared that he would weed out "radical Islamic terrorists" from America, and after signing the order he said that he was making the nation safe from the "terrorists." "This is big stuff," Trump said at the Pentagon.
Donald Trump meets British PM Theresa May; pledges 'lasting support' to US ties with UK
The executive order signed by Trump was titled "Protection of the nation from foreign terrorist entry into the United States." While the White House did not make the content of the decree public, reports state a draft of the text was leaked to the media.
According to the draft, the new orders suspend the entire US refugee resettlement program for at least 120 days until stricter vetting rules are established. The order particularly bars Syrian refugees from entering the United States indefinitely, or until the president decides they no longer pose a potential threat to the safety of the country.
The draft also states that no visas are to be issued for at least 30 days to migrants or travellers from seven Muslim countries including Iran, Iraq, Libya, Somalia, Sudan, Syria and Yemen. Donald Trump also signed orders to "rebuild" the US military.
Reports state that new rules will be formulated for what Trump calls "extreme vetting" of the backgrounds of all the applicants. However, some exceptions are to be made for the members of "religious minorities," the exception would cover Christians fleeing Muslim-majority countries.
Trump's orders were condemned by many civil liberties and counter-terror experts who said that the measures were inhumane as the victims of the conflict are being lumped together along with the extremists who threaten them.
"'Extreme vetting' is just a euphemism for discriminating against Muslims," said Anthony Romero, executive director of the American Civil Liberties Union, AFP reported. Romero also said that Trump's orders breach the US Constitution's ban on religious discrimination as he is targeting particular countries with Muslim majorities.