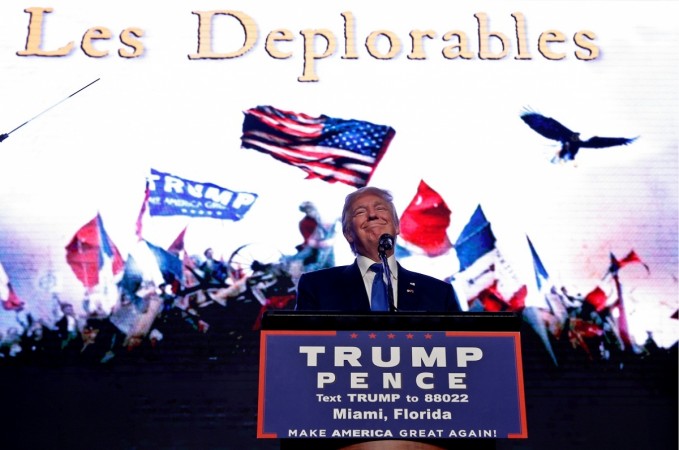 US Republican Presidential candidate Donald Trump courted controversy yet again when he said that Democratic Presidential candidate Hillary Clinton's guards should disarm to see what happens to her.
Trump was speaking about Clinton's policy on right to own guns during a rally in Miami. The issue has been a rallying point since the population is divided over gun violence.
President Barack Obama too has tried time and again to bring the legislation against easy access to guns in the country, which has a high rate of mass shootings. As many as 372 mass shootings took place in the US in 2015, killing 475 people and wounding 1,870, according to the Mass Shooting Tracker.
"I think that her bodyguards should drop all weapons," Trump said. "I think they should disarm immediately. Let's see what happens to her," he added.
Clinton's campaign team responded to the jibe saying that he was inciting people to violence.
Trump made false accusations against Clinton and told his supporters that she wants to "destroy your Second Amendment." Clinton had said that she was not there "to take away guns" during the Democratic Party Convention in July.
This is not the first time that Trump has tried to incite supporters against Clinton. In August, he had said that those who supported gun rights should rise up against Clinton, if she became president, to stop her from selecting judges in favour of her policies.
Whether this is done to provoke protesters at a rally or casually or even as a joke, it is an unacceptable quality in anyone seeking the job of Commander in Chief...This kind of talk should be out of bounds for a presidential candidate," said Robby Mook, a spokesman for Clinton.
While Trump's team later explained that his comment meant to incite greater political activity, Clinton's team said that the remarks were "dangerous" and irresponsible.
Not one to back down, Clinton's pinned tweet on her account currently reads, "What Trump just did is a disgrace."