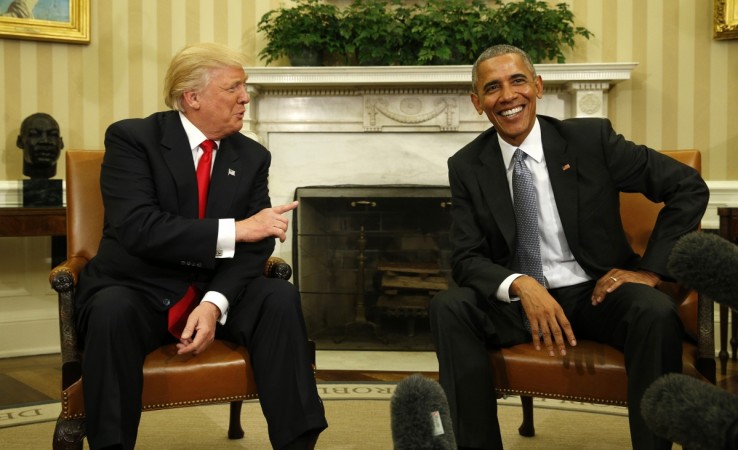 President-elect Donald Trump's team has warned outgoing United States President Barack Obama against making any major moves in foreign policy before handing over the office to Trump.
During Republican nominee Trump's presidential campaign, there were talks in the Democratic foreign policy circles that before leaving the White House, President Obama would attempt to initiate peace talks between Palestinians and Israelis. Reports state that the Obama administration was also expected to push for the approval of the Trans-Pacific Partnership trade deal in the Congress.
However, now that Trump has won the US elections, his aides have said that the outgoing president should not make such foreign policy moves as they do not align with the policies of the president-elect Trump.
"On big, transformative issues where President Obama and President-elect Trump are not in alignment, I don't think it's in keeping with the spirit of the transition ... to try to push through agenda items that are contrary to the president-elect's positions. It's not going to be just counterproductive, but it will also send mixed messages," Trump's national security advisor was quoted as saying by POLITICO on Thursday.
President Obama and Trump held their first meeting at the White House on Thursday where Obama said that his prime priority in the coming two months would be to ensure a smooth transition of his administration to Trump's so that he is successful in his term. Presidential transitions are often messy, particularly if the transition is from one political party to another one.
However, Obama seemed to put his past differences aside during the meeting and told Trump, "If you succeed, the country succeeds."
"Mr. President, it was a great honor being with you and I look forward to being with you many, many more times," Trump said after the meeting with President Obama at the Oval office. He also added that Obama and he had spoken about some wonderful and difficult things and "some high-flying assets."