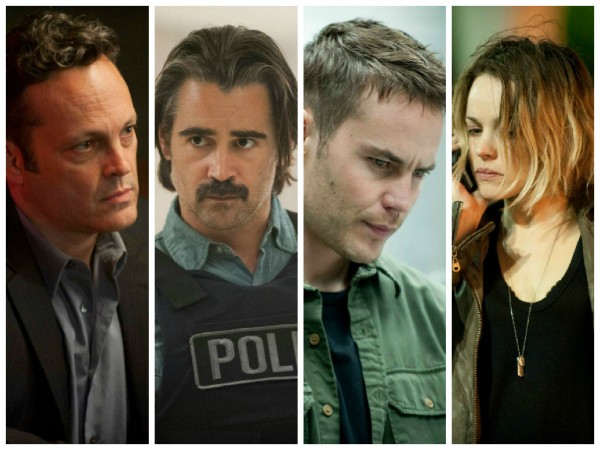 Ray Velcoro (Colin Farrell), Ani Bezzerides (Rachel McAdams), Paul Woodrugh (Taylor Kitsch) and Vince Vaughn (Frank Semyon) are all set to take "True Detective" fans to the world of investigation when it returns on HBO with season 2 by Sunday, 21 June. But the leaked plot details indicate that the series is likely to focus more on rough sex and occult rather than true investigation.
The occult markings carved on the main victim corrupt city manager Ben Caspar's body as well as his interest in the secret occult history and "penchant for rough sex" might take viewers through the dark world, according to Movie Pilot.
Earlier, several speculations were doing the rounds that the crime drama series will focus on satanic sex and feature the masked ball orgy scene inspired from Stanley Kubrick's 1999 erotic thriller film "Eyes Wide Shut". But last month creator Nic Pizzolatto stated that the series will not feature any secret occult history. So it remains to be seen whether he is planning to surprise the viewers with the new plot line or not.
Meanwhile, the leaked plot details of "True Detective" also stated that California state police officer Velcoro will join hands with local town sheriff Bezzerides to solve the mystery behind the murder case.
Recently, Farrell had also hinted on the importance of character relationships in the HBO drama. "I think it's more to do with what's happening with the characters than the solving of a murder, which is what I kind of felt about the first year anyway. So hopefully people respond to it. You never know. But it was a blast to work on. It was such good material, and such a wonderful cast of characters," he told Variety.
So the fans can expect to watch some interesting sequences between the disgraced cop Velcoro and the determined detective Bezzerides in "True Detective" season 2. But since the trailers and posters of the crime drama have not revealed any details about the show, except vague character outlines, they will have to wait until 21 June to know more about about the show.