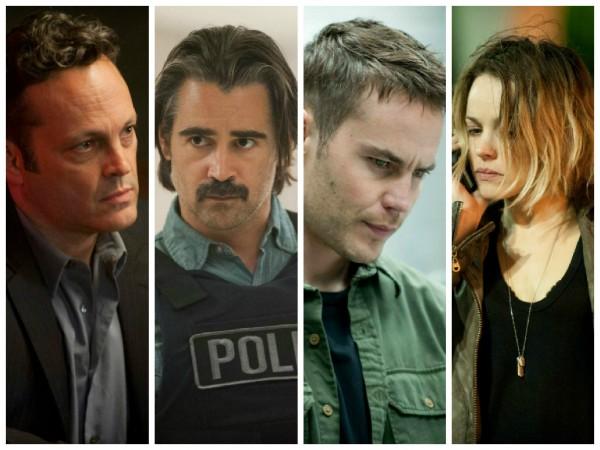 When "True Detective" returns on HBO with season 2 on Sunday, 21 June, Nic Pizzolatto's three efficient detectives ― Ray Velcoro (Colin Farrell), highway patrol officer Paul Woodrugh (Taylor Kitsch) and sheriff Ani Bezzerides (Rachel McAdams) ― will be seen chasing a bunch of criminals in Los Angeles.
The official synopsis of the sequel titled "We Get The World We Deserve" states that a bizarre murder brings together three law-enforcement officers and career criminal Frank Semyon (Vince Vaughn), each of whom must navigate a web of conspiracies and betrayals in the scorched landscapes of California.
While Farrell's character is reportedly one of the most popular corrupt police officer, McAdams' character is known for her alcohol and gambling addiction. Kitsch's character is the youngest in the team, who is running away from his past due to a sexual exploitation case. So it remains to be seen who among the three will be a "True Detective".
Earlier creator Pizzolatto had revealed that the series will revolve around the secret occult history of the United States transportation system. But speculations suggest that the show will introduce the darker side of celebrity world and Hollywood, according to Digital Spy.
Meanwhile, NBC series is also expected to have a long list of supporting cast, including Adria Arjona as Emily, Christopher James Baker as Blake Churchman, Matt Battaglia as Commander Floyd Heschmeyer, Kelly Reilly as Jordan Semyon, Michael Irby as Elvis Ilinca, Lolita Davidovich as Cynthia Woodrugh, Leven Rambin as Sophia, Abigail Spencer as Alicia, James Frain as Lt. Kevin Burris, Yara Martinez as Felicia, Afemo Omilami as Police Chief Holloway and Jon Lindstrom as Jacob McCandless.
Watch the new trailer for "True Detective" season 2 below to know more about the plot and the lead characters: