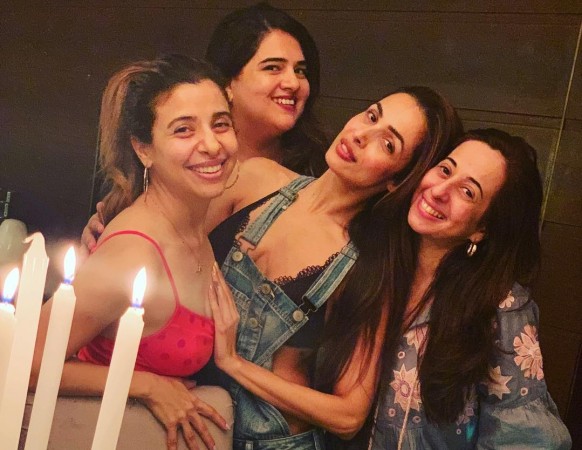 Malaika Arora was brutally trolled for sharing a picture of her thanksgiving dinner on Tuesday (November 20) with her girl gang Preeta Sukhtankar, Delnaz Daruwala and Vahbiz Mehta especially for the awkward placement of her hand.
Letting their imagination run wild, trolls flooded Malaika's Instagram post's comments section with questions like "Why are her hands on that lady's boobs?" while some called her a lesbian.
Some trolls even passed nasty comments like, "Hide your cleavage it looks more old than your face", "Malaika's Hand is Giving Thanks To something else" and they continued while there were some who took pleasure in reading these comments made on the misfortunate hand placement.
Many, on the other hand, trolled Malaika for copying western culture. "No one but Americans celebrate Thanksgiving, IT IS NOT equivalent to Diwali, Halloween, Christmas as a moron here tries to defend this wannabe. It is a RACIST holiday started by America's founder as a LIE! Just plain DUMB to celebrate it in India out of all places!" an infuriated Instagram user commented.
Meanwhile, Malaika is currently in the news for her growing closeness to her rumoured boyfriend Arjun Kapoor. If the reports are to be believed, the lovebirds will reportedly get married in 2019.