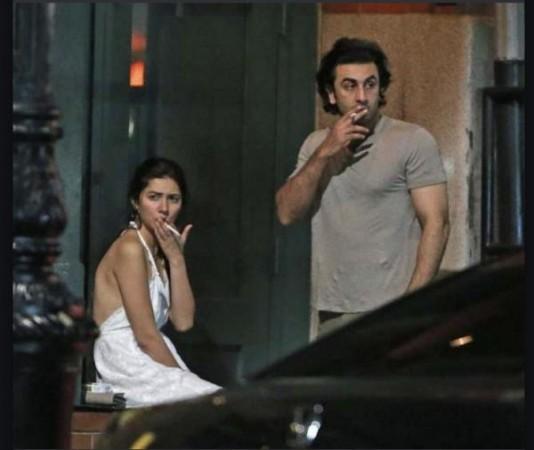 More than a year has passed since the pictures of Pakistani actress Mahira Khan and Bollywood actor Ranbir Kapoor having a smoke on the streets of New York City spread like wildfire on social media platforms. But the Raees actress is still facing the wrath of trolls who had slut-shamed her for smoking in public and showing off her skin in a backless piece then.
However, this time, Mahira handled things in her own inimitable way when a Twitter user mocked her and tried to insult her on social media while referring to her viral pictures with Ranbir Kapoor.
It all started when Mahira took to Twitter to extend her warm wishes to Pakistani cricketer Mohammad Hafeez who recently announced his retirement from test cricket.
"Mubarak on a great innings and thank You!! I'm so glad I got to watch you play live. Love to you and the family," Mahira replied to Hafeez's retirement announcement tweet.
But a Twitter user saw Mahira's gesture towards the Pakistani cricketer as an opportunity to yet again remind the actress of how people had humiliated her on social media then.
"Lgta hai koi khaas kaam nahin mil rha jab say ranveer kapoor waali pictures out hueen (It seems like you are not getting any respectable work ever since your pictures with Ranveer Kapoor were out)," the Twitter user wrote.
But Mahira was in no mood to brush things under the carpet and simply replied to him with, "*Ranbir."
Earlier, Mahira has spoken about the controversy and how she felt violated.
"That was the first time in my entire career that I was caught up in a so-called controversy and it was strange because there were so many things in that. One, obviously you feel violated, you are in a personal downtime moment and someone has just photographed you," Mahira had said while speaking on an episode of BBC World News' HARDTalk.
Mahira made her Bollywood debut opposite Shah Rukh Khan in Raees but it remains to be her last in Indian cinema ever since the controversy arose surrounding Pakistani celebs working in Indian films.