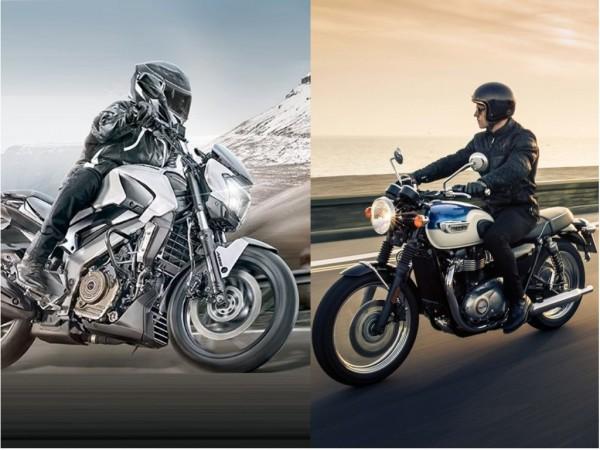 In what could be the second major alliance by an Indian two-wheeler maker with a European brand after BMW Motorrad and TVS Motor Company, Pune-based Bajaj Auto has joined forces with British manufacturer Triumph Motorcycles.
Triumph Motorcycles says it is a global partnership and the objective of this non-equity partnership is to deliver a range of mid-capacity motorcycles benefitting from the stronghold of both companies.
The partnership with Bajaj Auto will enable Triumph to cater to new higher volume market segment which is not its domain. The move will also help the British manufacturer to set foot in many emerging markets where higher capacity bikes are not favourite.
For Bajaj Auto, the deal will gain access to the iconic British brand and its motorcycles. The technical know-how of Triumph will help Bajaj Auto to bring a wide range of advanced motorcycles for domestic as well as international markets.
In line with BMW Motorrad and TVS alliance
The move by Bajaj Auto and Triumph motorcycles comes in line partnership with BMW Motorrad and TVS Motor Company for sub 500cc bikes. TVS' Hosur plant in Tamil Nadu is the manufacturing hub for BMW G 310 R, the first product from the alliance. BMW-TVS partnership was announced in 2013.
It looks like Bajaj and Triumph will follow the same route. In that case, smaller capacity Triumph rolling out of Bajaj Auto's plant in India will not be a distant dream.
Bajaj Auto, the master of tie-ups
Bajaj Auto should be considered as the master of two-wheeler tie-ups in India. In 1984, they had formed a partnership with Kawasaki. After 33 years of alliance, both the parties parted ways in April 2017.
Bajaj Auto also holds 47.96 percent stake in Austrian bike maker KTM. KTM is the owner of Husqvarna Motorcycles. With Triumph's arrival, Bajaj Auto is currently in alliance with three bike makers.